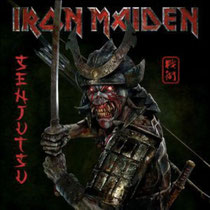 VO: 03.09.2021
Format: div.
Tracklist:
01. Senjutsu (8:20) – Smith/Harris
02. Stratego (4:59) – Gers/Harris
03. The Writing On The Wall (6:13) – Smith/Dickinson
04. Lost In A Lost World (9:31) – Harris
05. Days Of Future Past (4:03) – Smith/Dickinson
06. The Time Machine (7:09) – Gers/Harris
07. Darkest Hour (7:20) – Smith/Dickinson
08. Death Of The Celts (10:20) – Harris
09. The Parchment (12:39) – Harris
10. Hell On Earth (11:19) – Harris 
Sechs lange Jahre hat die Musikwelt auf den neuen Tonträger der britischen NWOBHM-Urgesteine von IRON MAIDEN warten müssen - und nun ist es endlich soweit. Am 03. September 2021 erscheint "Senjutsu", das 17. Studioalbum der Band. Zwar haben die Briten die Aufnahmen bereits 2019 begonnen, aber die Pandemie-Zwangspause hat die Pläne zum Release verschoben.
Den Einstieg ins Album macht direkt der Titeltrack "Senjutsu". Ein eher schwerer, ruhiger Song, der nicht nur lyrisch, sondern auch musikalisch sehr nachdrücklich im Gedächtnis bleibt. Hier fällt auch direkt wieder Bruce' tiefere Stimmlage auf. Die Zeiten der "air raid siren" sind eben definitiv vorbei - was aber auch mittlerweile nicht mehr wirklich zum Songwriting passen würde - und wem der Gesagt auf der "The Book Of Souls"-Scheibe schon nicht mehr gefallen hat, der wird es auch mit Senjutsu nicht leichter haben.
"The Writing On The Wall" wurde ja bereits vor ein paar Wochen von der Band veröffentlicht und fand großen Anklang in der Musikwelt. "Lost In A Lost World" ist auch wieder in der typischen IRON MAIDEN-Marnier geschrieben und mit den schnell wiedererkennbaren Rhythmen und Melodien ausgestattet. Genauso ist auch der Folgetrack "Days Of Future Past" direkt gewohnt und angenehm zu hören. 
Grundsätzlich finde ich keinen Track auf dem Doppelalbum, der eine riesen Überraschung darstellt und so völlig aus der Reihe tanzt. Es sind eher die kleinen, feinen Akzente, die "Senjutsu" ausmachen, anders machen, und von denen man mit jedem Durchlauf wieder neue entdeckt. Es gibt abermals ein paar komplexere Stücke, bei denen der langjährige Produzent, Kevin Shirley, erneut das Können der Band abgefragt und perfekt umgesetzt hat.
Hier und da gibt es ein paar Einflüsse aus Prog und Blues, sowie Soundtracks, die sich in die Songs einflechten und in ihrer Machart, den ganz eigenen Maidenstil nochmal unterstreichen und dem Album zu seiner Einheit verhelfen.
Unverkennbar sind allerdings wieder die Klänge der Gitarren - allen voran, der Bass. Man könnte wohl jeden Menschen der Gitarrenwelt nachts aus dem Bett klingeln, dieser Sound ist so eindeutig, dass ihn jeder sofort erkennt. Steht IRON MAIDEN drauf, ist IRON MAIDEN drin.
Im Groben handelt das Album thematisch wieder von diversen Kriegs-/Krampfsituationen - das bringt der Titel schon mit sich (Senjutsu = 'the art of war' ("Taktik und Strategie")). Es gibt aber auch Abweichungen mit "The Time Machine", oder auch "The Parchment " (hier ist nicht das Backpapier gemeint, sondern das gemeine Pergament, vermutlich trotzdem in Rollenform aufbewahrt.).
Insgesamt ist die Scheibe mit fast 82 Minuten Laufzeit, die bisher zweit-längste in der Bandgeschichte. Es gibt drei Songs, die die 10 Minuten überschreiten und diese bilden den Abschluß des Langspielers (Wortspiel beabsichtigt).
"Senjutsu" ist mal wieder ein extrem starke Platte. Zwar mit ein paar kleinen, neuen und ungewohnten Eindrücken der musikalischen Laufbahn in der Band, aber eindeutig MAIDEN: unerbitterlich, einprägsam. Kurz: fettes Teil! Die Fans werden es lieben und ich denke, die Special Editions sind so gut wie ausverkauft.
(Sarah Jacob)