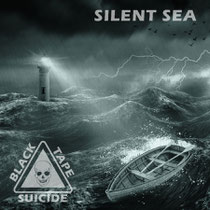 VÖ: 07.05.2021
Format CD
Tracklist:
01. Silent Sea
02. The Storm
03. In Your Soul
04. Hangover
05. We Are Here To Rock
06. Burning Like Fire
07. Break Out
08. Time Is Running
Man sagt ja 'stille Wasser sind tief' und genau das trifft auch auf das erste Album der Österreicher von BLACK TAPE SUICIDE zu. 
Beginnend mit einem Intro aus Sounds von rauher See, Gewitter und Möwen, springen wir zum ersten Song "The Storm". Hier muss ich gestehen, dass mir der Gesang zu den Lyrics erst etwas zu sanft gewesen ist. Nach längerer 'heavy rotation' und diversen Stunden im Auto, gefällt mir die Kombination immer besser. 
"In Your Soul" geht direkt schneller ab und ins Ohr. Sehr einprägsame Melodien und Textpassagen haben Ohrwurmcharakter und man wippt mindestens mal mit dem Kopf mit.
"Hangover" hat diese gewisse Stärke und der Gesag ist etwas mehr... 'edgy' was perfekt zum Text passt und mir anfangs bei "The Storm" fehlte. Ich habe hier tatsächlich ab und an das Gefühl "been there, done that". Toller Song, muss ins Liveprogramm und sollte dort bleiben!
Nun die Hymne "We Are Here To Rock". Was soll ich dazu groß schreiben? Der Song ist Programm - für das gesamte Album. Irgendwie hat man das Gefühl, dass man den Song kennt, aber nicht im Sinne von "das ist doch geklaut". Liegt vermutlich am Thema. Nicht neu, aber toll umgesetzt.
"Burning Like Fire" ist wieder etwas ruhiger. Einer der Songs, bei denen ich immer laut mitsinge. Hört es euch einfach an und entscheidet selbst. Ich mag das Teil einfach.
"Break Out" ist wieder eine ruhige Nummer, die zum Nachdenken anregt. Klingt sehr persönlich und damit tiefgehend.
"Time Is Running" ist ein guter Schlußtrack mit dem dazu passenden "Feierabend-Groove". Ein Rausschmeißer, bei dem man runterkommen und nochmal ordentlich genießen kann.
Mit "Silent Sea" haben BLACK TAPE SUICIDE ein tolles Album produziert. Es ist extrem kurzweilig, abwechslungsreich, hat tolle Melodien, fette Riffs, Lyrics zum Nachdenken und auch zum Abfeiern. Rundum gelungen. Sie selbst beschreiben den Stil als 'Altervative Heavy Rock'. Das trifft es ganz gut, aber ich bin kein großer Fan von Genre-Schubladen oder "das klingt wie". Einfach reinhören und mögen geht hier super!
Und die Band hat - vorallem mir - gezeigt, dass 'female fronted' nicht immer gleich zum Augen rollen ist. Wer mich kennt weiß, dass ich es eigentlich nicht unbedingt mit Frauengesang habe, aber ich schreibe hier offiziell und sehr gerne, dass Cathy einen ganz tollen Job abgeliefert hat, und, dass ich mich schon sehr darauf freue, die Wiener einmal live erleben zu dürfen. Neben der absolut sympatischen Art (siehe auch das Interview aus Mai), sind die Österreicher sehr gute Musiker, die ihr Handwerk verstehen.
(Sarah Jacob)