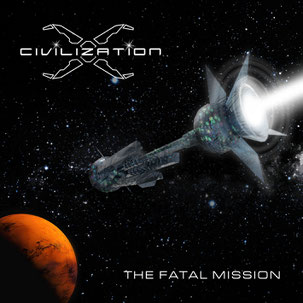 VÖ: 14.06.2019
Label: Selfrelease
Format: EP
Tracklist:
01. Interplanetary Death Trip
02. Awakening with the Dead
03. Confronting the Creature
Lineup:
Jürgen Dachl -Vocals
Christian Colceriu -Guitars
Roland Zehrer -Bass
Leander Widmoser –Drums
"The Fatal Mission" ist die Debut-EP der Anfang 2018 von Jürgen Dachl (Gesang; Apeirage, Ex-Stormhammer) und Christian Colceriu (Gitarre; progshot) ins Leben gerufene Future Metal Band CIVILIZATION X. Unterstützt werden die beiden von Roland Zehrer (Wanted Inc.) am Bass und Leander Widmoser (Jakob & Ikarus) am Schlagzeug.
Das Konzept der Münchner, deren Bandname wie aus der Zukunft gekommen klingt: Future Metal spielen und dabei Sciene Fiction Geschichten erzählen, im Fall der vorliegenden EP ein Horror Thriller in drei Akten. Los geht's mit dem ersten Song von dreien, "Interplanetary Death Trip". Und der startet mit einem grenzgenialen Intro. Nämlich mit einem extrem lässigen groovigen Bass in Begleitung der taktgebenden Hi-Hat. Übermalt wird das Ganze von Klavierklängen. Ja, Klavier, nicht Keyboard! Und ich finde dieses Intro grenzgenial. Ähnlich wie Savatage's legendäres Gutter Ballet eröffnet es den Song und erzeugt in mir eine neugierige Spannung auf den Rest. Und mit Jürgens Stimme und Christians Gitarren geht es dann so richtig schön zur Sache. Ein feiner und spährisch gehaltener Metalsong getragen von Stimme und Gitarre. Ein ruhiger Part bringt uns wieder zum Klavier zurück bevor mit dem eingängigen Refrain der Schluss eingeleitet wird.
Der zweite Song "Awakening with the Dead" ist ruhiger. Er beginnt wieder mit Klavieruntermalung. Ich würde ihn als Teil Zwei des ersten Songs ansehen da für mich - gerade beim Klavier - dieser Song mir immer wieder als Variation des ersten durchscheint.
Der dritte Song "Confronting the Creature" ist wieder flott unterwegs. Mir haben es da die Strophen angetan: Ich mag diese Art des Sprechesangs, ohne Gitarre und nur dezent mit dem Bass untermalt bringt es Abwechslung in die Gitarrenwelt des Heavy Metals.
Die Hörgewöhnheiten haben sich in den letzten zwanzig Jahren massiv geändert. Vorbei die Zeiten wo man sich die Musik als Schallplatte am Bett liegend gegeben hat. Gerade CIVILZATION X sollte man sich aber horizontal nähern, entfaltet sie so nämlich meiner Meinung nach die beste Wirkung. Manchmal vermisse ich beim Hören die Abwechslung in den Songs. Wobei man aber als Gegenargument nicht vergessen darf, dass diese EP eine ganze Geschichte erzählt und somit alle drei Songs zusammen gehören. Jedenfalls ist "The Fatal Mission" eine EP die man sich öfters und gerne anhört. Ich bin jedenfalls schon sehr gespannt auf die nächste Science Fiction Geschichte von den Münchnern.
So! Und ich geh jetzt Klavier spielen lernen.Wer jetzt neugierig geworden ist, dem sei das Lyrik Video der Band zu "Interplanetary Death Trip" ans Herz gelegt: https://youtu.be/DFVygTbsWG4
(Bernhard Weber)