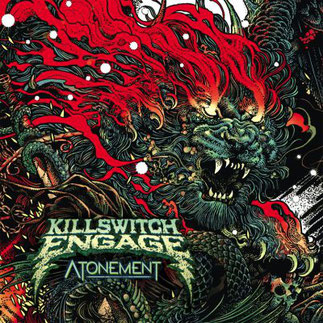 VÖ: 16.08.2019
Label: Sony Music Entertainment
Format: CD
Tracklist:
01. Unleashed
02. The Signal Fire [featuring Howard Jones]
03. Us Against the World
04. The Crownless King [featuring Chuck Billy]
05. I Am Broken Too
06. As Sure As the Sun Will Rise
07. Know Your Enemy
08. Take Control
09. Ravenous
10. I Can't Be the Only One
11. Bite the Hand That Feeds
Auf dem bereits achten Release beweisen KILLSWITCH ENGAGE einmal mehr, welche Power in ihnen steckt. Vollgepackt mit fetten Drumms, starken Riffs und der rohen Gewalt in Jesses Stimme, ist auch ATONEMENT ein unverwechselbares Meisterwerk.
Thematisch bleibt sich das Quintett wieder treu. Es geht um die tiefen der menschlichen Seele/Psyche, sozialverhalten, das tabu-Thema Depressionen und was man sonst noch so auf diesem Planeten erlebt.
Bereits mit "Unleashed" steigt man tief in die Sphären von ATONEMENT ein und kann erkennen, dass der Songtitel seinem Namen alle Ehre macht. Das Biest wird entfesselt und geht seinen weg.
"In 'Unleashed' geht es darum, wie Leidenschaft und Wut sich ihren Weg an die Oberfläche bahnen", erklärt Sänger Jesse Leach. "Wir alle haben etwas Wildes in uns, das die meiste Zeit inaktiv ist – bis ein tragisches Ereignis es triggert und zum Leben erweckt. Der Song handelt von diesem inneren Erwachen. Ich glaube, es ist uns gelungen, auf diesem Song etwas Rohes und Intensives einzufangen und ich freue mich unglaublich darauf, dass es jetzt jeder hören kann! Das neue Album Atonement spiegelt unsere Gedanken zu Beharrlichkeit und Leidenschaft während der Prüfungen und des Leids unserer Existenz wider."
Auf "Signal Fire" gibt ex-KSE-Fronter Howard Jones ein Stelldichein und shoutet mit Kumpel Jesse um die Wette. Eine super Kombination, bei der es mehr als Spaß macht zuzuhören.
Ebenfalls zu "The Crownless King" gibt es einen mega Vocal-Guest in Form von Testaments Chuck Billy. Auch hier passen beide Stimmen perfekt zusammen und donnern sich durch den Gehörgang.
"I Am Broken Too" ist die vermutlich persönlichste Ebene, auf der Jesse bisher sein Innerstes mit den Fans geteilt hat. Es geht um seinen langjährigen Kampf mit Depressionen und dem Umfeld mit dessen Reaktionen dazu.
Die aufwendige Illustration des Albumcovers von ATONEMENT stammt von niemand geringerem als dem talentierten englischen Künstler Richey Beckett (Metallica, Mastodon) in Zusammenarbeit mit Bandmitglied Mike D'Antonio, der die Artdirektion und das Layout übernahm.
Meiner Meinung nach, ist ATONEMENT das wohl persönlichste Album für Fronter Jesse. Damit behaupten sich KILLSWITCH ENGAGE einmal mehr mit ihrer Stellung im Genre und dass sie diese zurecht haben.
Zuhören, aufnehmen, drüber nachdenken. Chapeau!
(Sarah Jacob)