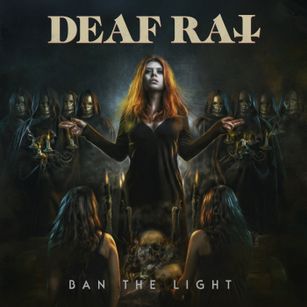 Ein Licht wird die dunkle Jahreszeit in diesem Jahr erhellen: DEAF RAT veröffentlichen am
1. November ihr Debütalbum "Ban The Light" via AFM Records.
Mit ihrem ersten Aufschlag in der Szene serviert die schwedische Hard Rock Band einen düsteren Langspieler mit saftigen Riffs und verführerischen Melodien, die dem Hörer den Kopf verdrehen.
Der Titel der Platte stammt vom ersten Song, der für das Album geschrieben wurde – ein emotionales Meisterstück über das Dasein als Außenseiter und den Mut, die eigene Individualität gegenüber Vorurteilen zu verteidigen.
Sänger Frankie Rich: "Ich hatte eine ziemlich harte Zeit in der Schule, weil ich auf jede erdenkliche Art und Weise anders war. Ich hatte einen komischen Namen, rote Locken und Eltern aus einem anderen Land. Zu allem Überfluss habe ich KISS und WASP gehört, während meine ganzen Altersgenossen Fans von den BACKSTREET BOYS und den SPICE GIRLS waren. Ich war unglaublich unglücklich."
 
"Ban The Light" ist ein Statement für alle, die in der Vergangenheit gehänselt wurden, auf die hinter deren Rücken mit dem Finger gezeigt wurde. Ein Statement für alle, die auf der Arbeit gehässige Kommentare über sich ergehen lassen müssen. Wegen ihrem Style, ihrer Leidenschaft für Musik oder einfach, weil sie die Menschen sind, die sie sind.
 
"Ban The Light" erscheint als CD und Clear Red Vinyl (limitiert auf 300 Stück).