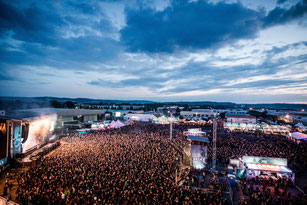 10. und 11. August 2019, Flugplatz Hildesheim-Drispenstedt

Das Line-up steht: Fields Of The Nephilim und weitere Szenegrößen für M'era Lunabestätigt

Das Line-up für Europas größtes Treffen der Schwarzen Szene ist komplett: Fields Of The Nephilim werden neben den bereits bestätigten Headlinern ASP, VNV Nation und Within Temptation auf der Bühne stehen. Mit den britischen Goth Rock-Legenden und weiteren Neubestätigungen kommen damit am 10. und 11. August insgesamt knapp 40 Bands zum Flugplatz Hildesheim-Drispenstedt.
Es gibt nur wenige Bands, die ihre Musik so bedeutungsvoll aufgeladen haben wie Fields Of The Nephilim: Die Formation um Mastermind Carl McCoy umgibt ihre Musik mit Elementen unterschiedlichster Mythologien und verwebt diese zu einem universellen Okkultismus, der nicht einfach düster, sondern poetisch ist. Auch musikalisch haben die Briten Akzente gesetzt: McCoys druckvolle Stimme legt sich über eng verflochtene Gitarren-und Basslinien, die auch nach mehr als 35 Jahren Bandgeschichte genreprägend sind. Besucher des M'era Luna können sich davon überzeugen, dass die Formation in dieser Zeit kein Quentchen ihrer Live-Energie verloren hat.

Auch Lacrimosa sind dafür bekannt, aus unterschiedlichsten Einflüssen ihren eigenen Klang zu destillieren, genauso wie Joachim Witt und Deathstars prägen sie die Ästhetik der Szene seit Jahren -sie alle werden beim M'era Luna beweisen, warum sich das auch zukünftig nicht ändern wird. Die treibenden Rhythmen und althergebrachten Melodien von Corvus Corax befinden sich also inguter Gesellschaft und werden von den EBM-Größen von Die Krupps kontrastiert, die mit De/Vision und Agonoize elektronische Akzente setzen.

Ebenfalls dabei sind Spetsnaz, Centhron, Faelder, Terrolokaust, Empathy Test, Formalin, Ewigheim, Fear Of Domination, Scarlet Dorn und Yellow Lazarus. Damit ist das Line-up für das M'era Luna 2019 komplett. Weitere Programmpunkte wie Lesungen und Workshops werden zu einem späteren Zeitpunkt bekanntgegeben.

Das vollständige Line-up für das M'era Luna 2019 im Überblick:
ASP | VNV Nation | Within Temptation | Fields Of The NephilimSubway To Sally | Lacrimosa | Mono Inc. | Joachim Witt | Combichrist | Deathstars | Oomph!| Diary Of Dreams | Corvus Corax | Versengold | Die Krupps | Suicide Commando | De/Vision [:SITD:] | Agonoize | Zeromancer | Assemblage 23 | Stahlmann | Funker Vogt | Neuroticfish Spetsnaz | Melotron | [x]-Rx | Centhron | Heldmaschine | Faelder | Terrolokaust | Empathy Test | Sündenklang | Sono | Formalin | Ewigheim| Fear Of Domination | Scarlet Dorn | Yellow Lazarus

Halbmond-Tickets für 94,-Euro zzgl. 5 Euro Müllpfand gibt es auf www.meraluna.de,  www.eventim.de oder telefonisch unter 0180 6-853 666 (0,20€/Anruf aus dem Festnetz, Mobilfunk max. 0,60€/Anruf).

Das M'era Luna ist jedes Jahr wieder Treffpunkt für die schwarze Szene aus ganz Europa, um ein friedliches und entspanntes Wochenende mit alten und neuen Freunden zu verbringen. Neben den immer hochkarätigen Headlinern gehören die besondere Atmosphäre, die kurzen Wege, der Mittelaltermarkt oder auch die extravagante Modenschau zu den Hauptanziehungspunkten für Besucher aus aller Welt. Um die 40 nationale und internationale Bands, ein umfangreiches Rahmenprogramm, Diskonächte mit Szene-DJs oder zahlreiche Verkaufsstände ziehen alljährlich 25.000 extravagant gekleidete Fans aus aller Welt an.
Quelle: FKP Scorpio Konzertproduktionen GmbH