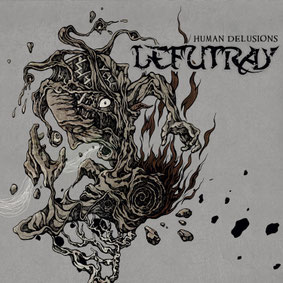 VÖ: 24.05.2019
Label: Massacre Records
Format: CD
Trackliste:
01. The Wrath
02. The Wolves
03. Wires
04. The Mist
05. Wild
06. Labyrinth
07. The Waiting
08. New Blood
09. The Mirage
Wenn man sich überlegt, in welchen Teilen der Welt die Metalszene tendenziell die härteren Bands hervorbringt, dann wird man um Südamerika keinen Bogen machen können, wenn man Skandinavien, Russland und China nicht vergisst; die ungeahnt gutes Black- und Thrash-Metal hervorbringen.
Und das lässt sich um so eindrucksvoller bei LEFUTRAY's neuem Album "Human Delusions" hören. In Klang und Art soll an den Vorgänger "Oath" angeknüpft werden.
Die überaus aktiven Chilenen veröffentlichen hiermit nun ihr viertes Studioalbum seit 2008.
LEFUTRAY's Stil liegt im Bereich des Groove-/Thrash-Metal. Thrashig geht es auf jeden Fall in ihrer Musik zu.
Beim ersten Eindruck springen einen förmlich die sehr schnellen Gitarrenriffs und Vocals an. Die Stimmung ist wie erwartet sehr aggressiv und schnell, die Riffs weisen aber auch sehr szenische Groovepassagen auf, z.B. bei "New Blood".
Schlagzeug, Gitarre und Bass verschmelzen zu einer Riffeinheit, welche unter sehr schnellem Tempo arbeitet ("Wires" Intro kann man da als sehr gutes Beispiel nehmen).
Die Musik birgt sehr viel Energie und Elan. In "The Wrath" wird dadurch ein positiver Adrenalinhaushalt provoziert.
"The Mist" ist im Vergleich zu anderen Songs strukturell anders. Dort sind das ruhigere Intro und das weitgehend gesanglose letzte Drittel des Songs zu erwähnen. Dort dürfen sich Gitarren und Drums austoben.
Die Songs sind überwiegend hart, dabei gibt es im Album auch keinen Ausreißer. In allen Songs kommt es zur Sache, allenfalls die Intros unterscheiden sich wirklich noch ("The Mirage").
Die Riffs sind häufig sehr abwechslungsreich, dort zumindest der Gitarrenanteil, während die Drums häufig gleiche Rhythmen spielen. Deren Setup ändert sich klanglich auch nicht (keine speziellen Drums oder Elemente).
Der Gesang gestaltet sich in Form von sehr gut gemixten Growls, dieser bleibt allerdings relativ gleichförmig. Würde man diese isoliert betrachten, dann hätte man diese auch gut in einem Death-Metal-Album unterbringen können.
Man könnte das Album als sehr genretypisch bezeichnen, von dem Standard im Thrash wird eigentlich nicht abgewichen und da könnte man auch dessen Schwächen verorten. Im Allgemeinen sind die Songs wenig abwechslungsreich und da tut es ganz gut, dass wir noch den Groove-Anteil haben, denn die abwechselnden Gitarrenriffs retten häufig sehr eintönige Songs.
Die Songs haben einzeln betrachtet kaum Schwächen, aber in ihrer Gesamtheit betrachtet, erscheint das Album doch etwas gleichtönig, aber sehr energiegeladen.
(Clemens Düsterhöft)