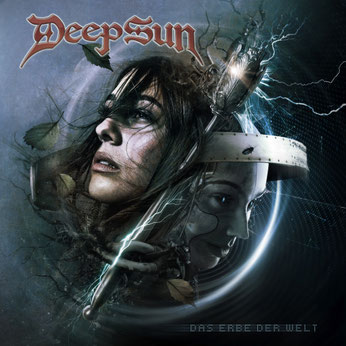 VÖ: 26.04.2019
Label: Massacre Records
Format: CD
Tracklist:
01. Relentless Resistance
02. Heroes
03. Insurrection Of Technolgy
04. Worship The Warship
05. Abandon Cyberspace
06. Das Erbe der Welt
07. Super New World
08. Vertigo
09. Go For The Kill
10. My Darkness
11. Frozen Sea
12. The Raven
Ein großes Problem im Bereich des Symphonic-Metal ist, dass sich ein ständiger Vergleich mit den namenhaften Größen des Genres aufdrängt. Es sollte vermieden werden dadurch voreilige Schlüsse zu ziehen.
Um es ganz schmerzlos auszudrücken, man erkennt Parallelen zu Größen wie NIGHTWISH. Aber deshalb muss das neue Album der Schweizer Band DEEP SUN noch lange nicht ein generischer Genre-Kandidat sein.
Nun beschäftigt sich deren drittes Album "Das Erbe der Welt" mit technologischen und gesellschaftlichen Wandel, in Auszügen ist das bereits an den Namen der Songs erkennbar.
Das Cover wurde mit gewohnt hohem Niveau von Stefan Heilemann erstellt, auch bekannt durch Albencover von EPICA, KAMELOT und DIMMU BORGIR. Sein abstrakter Stil ist auch in diesem Albumcover ausgesprochen gut zu sehen.
Symphonic-Metal zeichnet sich über einige ungebrochene Prinzipien aus, besonders die Mehrschichtigkeit des Klanges und häufig durch weibliche Vocals. In diesem Fall wird Sängerin Debora Lavagnolo noch durch männlichen Hintergrundgesang unterstützt.
Gleich zu Anfang ist die genannte Vielschichtigkeit eindeutig zu hören. In "Relentless Resistance" wird unterstützend noch, vermutlich, ein Cembalo eingesetzt. Diese Instrument ist eines der am meisten benutzen Nebeninstrumente. Der Rhythmus ist halbwegs mitreißend.
Allerdings kommen im Mix des Songs die weiblichen Vocals nicht wirklich zur Geltung, da sie im Vergleich zu den Instrumenten in den Hintergrund gerückt wurden.
"Insurrection of Technology" zeigt nach kurzer Zeit einen Pop-Charakter und dieser Trend wird dann durchgehend angehalten.
Sehr effektvoll beginnt "Worship the Warship" mit einer wirksam eingesprochenen Einleitung, um kurz danach explosives Schlagzeug abzuliefern. Der Song klingt durch den verstärkten Einsatz von Chören und komplexeren Struktur ausgesprochen episch.
Der Titelsong des Album ist eher von einen melancholischen Charakter, besonders ist hier das Intro des Songs hervorzuheben, welches durch Klavier gestützt wird. Es ist auch der einzige Song dessen Texte auf Deutsch anstatt Englisch sind.
"The Raven" stellt sich bisweilen als längster Song des Album heraus, mit 15 Minuten Länge liefert der Song einen umfangreichen Abschluss des Albums.
Musikalisch haben wir es mit häufigen Tempiwechseln innerhalb der Songs zu tun, die eine gewisse Unterteilung innerhalb dieser unterstützen, z.B. in "Vertigo". Dabei werden die Songs häufig in einzelne "Kapitel" unterteilt. Dabei erhalten die Songs eine halbwegs komplexe Struktur.
Wie im Genre üblich werden die Riffs mit Keyboardelementen begleitet, durch Streicher-, Orgel- und andere Effekte. Diese sind essentiell für den epischen und wörtlichen symphonischen Klang.
Operaler Gesang überwiegt im Album, dessen hohes Niveau herauszuheben ist, deutlich in den Schlussminuten von "The Raven" zu hören. Allerdings weisen diese wenig Variation in Stimmlage und Lautstärke auf. Es ist außerordentlich bemerkbar, dass es den Vocals an Abwechslung mangelt. In diesem Punkt reicht der Unterstützungsgesang eben nicht mehr aus.
Und in diesem Format gibt es ein breites Feld an Bands, die zwar eine gesanglich talentierte Sängerin besitzen, aber abseits davon kaum herausragende Features besitzen, wie Grunts oder Screams.
Eine weit verbreitetes Problem innerhalb des Genres ist das häufig statisch wirkende Schlagzeug. Zumindest kann man dies während der Gesangspassagen bemerken. Dort wird dann von einem Standardbeat kaum abgewichen und in Kombination mit langen und eher abwechslungsarmen Gesangsstrophen verleiht es den Songs Trägheit.
Die musikalische Arbeit der Band ist mit diesem Album durchaus zu würdigen, allerdings leidet der Gesamtklang an einigen Kinderkrankheiten. Die eingesetzten Effekte und die komplexe Songstruktur sind durchaus ein Plus.
Jedoch wurden im Mix die eher eintönigen Vocals nicht deutlich genug zur Geltung gebracht und häufig klingen die Songs recht ähnlich und wirken statisch. Dadurch bleibt leider der Eindruck, dass es sich bei dem Album wohl nun leider doch um ein typisches Genrewerk handelt. DEEP SUN sprengt hier leider nicht die Erwartungen.
Allerdings für Freunde von eher operalem Symphonic-Metal ist dieses Album zu empfehlen.
(Clemens Düsterhöft)