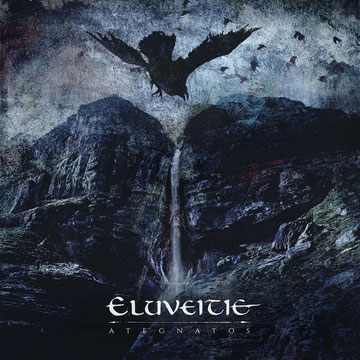 VÖ: 05.04.2019
Label: Nuclear Blast
Tracklist:
01. Ategnatos
02. Ancus
03. Deathwalker
04. Black Water Dawn
05. A Cry In The Wilderness
06. The Raven Hill
07. The Silvern Glow
08. Ambiramus
09. Mine Is The Fury
10. The Slumber
11. Worship
12. Trinoxtion
13. Threefold Death
14. Breathe
Es ist mittlerweile soweit. Die angesehenen, Schweizer Folk-Metaler haben ein neues Album mit dem klangvollen Titel "Ategnatos" veröffentlicht. Es soll betont melodischer und atmosphärisch dichter ausfallen, als es die Vorgänger taten.
Wenn man sich im Folk-Bereich befindet, sind naturverbundene Themen weit verbreitet. Der Titel des Albums steht wörtlich für Erneuerung und Lob vergangener Lebensweisen. Jedoch betreten ELUVEITIE hier nicht gerade ein neues und womöglich auch kein besonders vielfältiges Feld.
Das Album wirkt tatsächlich melodischer und sehr eingängig; denn trotz des genretypischen Themas, wird an gelungen geschriebenen Songs und instrumenteller Expertise nicht gespart.
Dabei bedienen sie sich ihrer altgedienten Formel aus vielseitigen Folk-Elementen und Death Metal-Schüben. Dabei werden den neun Mitgliedern der Band musikalische Entfaltungsräume gegeben, hervorzuheben sind z.B. das Harfenspiel von Sängerin Fabienne Erni.
Allerdings übernehmen auch weitere Bandmitglieder vielfältige Instrumente; folkige Mandolines, Dudelsack und Drehleier bilden hier die Folk-Säule. Dabei bleibt das Metalfundament erhalten.
Häufig mischen sich in die Songs Sprach- und Textelelemente ein, die thematisch und atmosphärisch ausgesprochen gut passen. Diese sind in Englisch, wie z.B. in "Worship", als auch in Gälisch und anderen keltischen Zungen.
Den Stil des neuen Albums könnte man als durchaus vielseitig einschätzen. In den Songs gibt es einige Genresprünge. In "Black Water Dawn" bewegen wir uns durch Passagen aus Folk-, Power- und Death-Metal, während gleichzeitig auch klassische Metalsolos eingebaut sind, die geradewegs aus der guten alten Zeit (Achtziger) stammen könnten.
Einen ähnlichen Anschein hat es bei "The Raven Hill", wandelt sich dann jedoch schnell in eine eher langsamere Mischung aus den bereits genannten Elementen.
"Ambiramus" ist ausgesprochen mitreißend und wirkt trotz Chrigels Vocals unerwartet leicht und gewand.
Schwerere Geschütze werden bei "Mine Is The Fury" aufgefahren und ein ausgedehntes Drehleier-Solo.
Bemerkenswert ist das Spieltempo ausgewählter Folk-Instrumente, z.B. in "A Cry In The Wilderness" in Form von Harfe, Geige und Flöte. Die gebotene Präzision und schwungvolle Klang sind ein überaus positiver Aspekt des Albums.
Gesanglich machen Chrigel Glanzmann und Fabienne Erni gute Arbeit, aber erreichen kaum überdurchschnittliche Ebenen. Man sollte dennoch nicht vergessen, dass wir uns hier auf hohem Niveau befinden, aber es beschleicht mich der Gedanke, dass dort theoretisch noch mehr zu holen gewesen wäre.
Auch fällt die eher abwechslungsarme Songstruktur auf, die immer wieder zwischen ruhigeren Instrumentenpassagen, Death Metal-Variationen und melodischen Refrains wechselt. Dass soll heißen, dass man vielleicht auch hier sagen kann, dass zum Wohle des Albenkonzepts die Abwechslung geopfert wird. Es gibt ungewöhnliche Passagen, dass sollte nicht vergessen werden, aber zu wenige, um die einzelnen Songs nicht zwangsläufig recht gleich klingen zu lassen.
In dem bald eine Stunde langen Werk von ELUVEITIE kann man eine ausgewogene Mischung aus Folk- und härteren Metalelementen bestaunen, der Mix ist sehr clever und die Songs bestechen durch gutes Handling der Instrumente und des Klangs. Unglücklicherweise wird dieses Glanzlicht etwas durch die eher generischen Gesänge geblendet. Auch mit thematisch neuartigen Konzepten wird nicht zwangsläufig aufgewartet.
Klanglich besticht das Album und dafür kann man es sehr gut finden.
 (Clemens Düsterhöft)