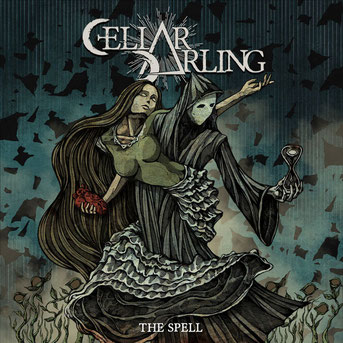 VÖ: 22.03.2019
Label: Nuclear Blast
Tacklist:
01. Pain
02. Death
03. Love
04. The Spell
05. Burn
06. Hang
07. Sleep
08. Insomnia
09. Freeze
10. Fall
11. Drown
12. Love Pt. II
13. Death Pt. II
In ihrem zweiten Album "The Spell" tritt das Schweizer Trio um Anna Murphy, Ivo Henzi und Merlin Sutter von ihrem ursprünglichen Folk-Image zurück und treten nun mit ihrem progressiven Rock, vom Klang, in die Fußstapfen von The Gathering.
Ihrem Album verleihen Sie eine übergreifende Geschichte, jeder Song stellt dabei ein Kapitel eben jener Geschichte dar. In dieser geht es um ein Mädchen, welche in eine düstere Welt geboren wird, gepeinigt von den Menschen. Auf der Suche nach dem viel begehrten Sinn des Lebens, begegnet sie dem personifizierten Tod, welchen sie danach noch mehr begehrt als zuvor den Sinn.
Dabei bedienen sich CELLAR DARLING ihres modernen Stils. Dennoch greift die Band im Album auf Instrumente zurück, welche vielleicht eher aus dem Folk stammen, besonders hervorzuheben ist hier wohl die Hurdy Gurdy (Drehleier) von Sängerin Anna Murphy. Dieser werden auch, neben der Gitarre, Solopassagen zugeteilt.
Die Songs sind relativ komplex geschrieben, haben aber dennoch eine gute Energie und wirken sehr melodisch. Dabei wechselt die vermittelte Stimmung entsprechend der Kapitel der Geschichte.
So ist z.B. "Pain" trotz des Titels recht geladen und wirkt weniger "traurig".
"Love" klingt abschnittsweise wie eine Mischung aus Filmmusik und komplexen Rock und besitzt einen großen Anteil ruhiger Passagen; aber auch einige, die wie Fernsehtitelsongs anmuten. Bei einem Song mit diesem Namen vermutet man wahrscheinlich nichts geringeres.
Es ist ausgesprochen interessant zu hören, wie Drehleier und Gitarren in manchen Songs verknüpft werden konnten. In "Burn" ist das sehr gut zu hören. Dort agiert die Drehleier fast wie ein Synth, der den Riff noch unterstützt und mehr Härte verleiht.
"Hang" mutete bot in einigen Sequenzen Pop-ähnliche Elemente an, der selbe Eindruck drängt sich auch bei "Fall" auf. Dagegen mutet "Sleep" fast wie ein Schlaflied an, wartet mit einer Mischung aus Klavier und kurzzeitig eingesetzten Synths an. 
"Insomnia" war bereits als Musikvideo bekannt und ist sehr stimmungsvoll, ist sehr melodisch und recht interessante Lyriks. Ingesamt mein Lieblingssong.
Trotz der heftigen Melodien und bedrückenden Themas wirken die Songs nicht bleischwer, wie vergleichbare Doom-Songs, sondern haben eine mitreißende Energie. Diese reicht vielleicht nicht für ausufernde Mosh- und Circlepits aus, aber das ist vermutlich nicht der Anspruch des Albums.
Was allerdings bei einigen Songs auffällt ist, dass aufgenommene Geschwindigkeit und somit Energie in vielen Songs schnell verschwendet wird, d.h. man hat ein "zerschnittenes" Erlebnis.
Die Songs präsentieren kaum durchgezogene Spannungsbögen, sondern es gibt scharfe Unterteilungen in den Songs zwischen schnellen und langsamen Passagen. Diese erinnern an die Aufteilung der Geschichte in Kapiteln, nun jedoch auch auf der Songebene durchgesetzt.
Der Gesang von Anna Murphy ist sehr vielschichtig und emotional, gerade das, was man von einer langjährigen Sängerin erwarten kann. Allerdings variiert die Dynamik nicht enorm, aber das fällt kaum zur Last. Positiv fällt auf, dass der Gesang häufig, wie aus verschiedenen Genres entlehnt, wirkt z.B. Pop, Klassik etc.
Instrumental wirkt die Musik ausgesprochen ausgereift und ist ebenfalls sehr vielschichtig. Die verschiedenen Instrumente sind, wenn man sie denn genau heraushört, passend eingesetzt, doch kommen z.B. eher folkige Instrumente nicht in allen Songs gleich viel vor und es gibt durchaus Abschnitte einiger Songs, die darauf komplett verzichten (welche dadurch aber auch weniger lebendig wirken).
Insgesamt kann man vielleicht sagen, dass es CELLAR DARLING gelungen ist ein sehr melodisches und stimmungsvolles Album zu schaffen, dass rein musikalisch sehr ausgereift ist und man den Eindruck gewinnen kann, dass die drei Ex-ELUVEITIE-Musiker wissen, was sie tun.
Es stellt bloß einen unglaublichen Bruch zum letzten Album dar, man entfernt sich von modernen Folk und macht einen großen schritt zu ausgefeiltem Prog Rock.
"The Spell" von CELLAR DARLING erschien am 22. März über Nuclear Blast Records. Momentan befindet sie sich auf Tour in Großbritannien und Irland.
Wer sich eingehender für die erzählte Geschichte interessiert, dem sei das Audiobook (Hörbuch) noch zusätzlich empfohlen.
(Clemens Düsterhöft)