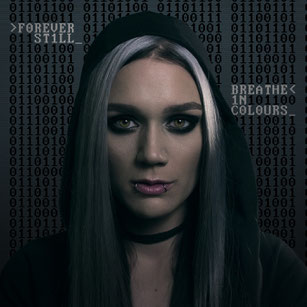 VÖ: 29.03.2019
Label: Nuclear Blast
Format: CD
Tracklist:
01. Rewind (3:17)
02. Fight! (3:09)
03. Breathe In Colours (4:29)
04. Is It Gone? (4:02)
05. Survive (3:37)
06. Do Your Worst (3:17)
07. Pieces (3:12)
08. Rising Over You (3:22)
09. Say Your Goodbyes (3:41)
10. Embrace The Tide (3:32)
Für deren zweites Album bedienen sich die Dänen FOREVER STILL ihrem bewährten Stil. Durch zwei EP's und ihrem ersten Album "Tied Down" haben sie eine Mixtur aus starken und sehr vielseitigen weiblichen Vocals und eingängigen Rhythmen entwickelt.

Nun wird diese Tradition in ihrem neuen Album "Breathe In Colours" fortgesetzt. Dabei entschied sich die Band nun ihr Album wieder stark zu thematisieren. Inspiriert wurden sie durch Dystopie, Science-Fiction und Cyberpunk. Blade Runner und Akira sind hier ganz wichtig.
Umweltzerstörung, urbane Wüsten und die stetig wachsende Macht von Großkonzernen ist sozusagen das thematische Fundament, auf dem die Albenkonzeption begonnen hat.

Notiz am Rande: das Settingjahr in Akira ist 2019 und in der echten Welt ist der Release im selben Jahr. Auch aus Matrix wurden hier reichlich Themen importiert. Wer die Musikvideos von "Rewind" und "Is It Gone?" aufmerksam schaut, wird dafür reichlich Beispiele finden.

"Rewind" startet mit melodischem Gesang, einem elektronischen Charakter und dem Gebrauch der Theremin. Der Song hat einen guten Ohrwurmcharakter, besonders der Refrain.
"Fight!" startet mit einem drumstarken Intro und einem langsameren Refrain. Die Vocals sind hier zum ersten Mal auffällig divers, dabei bewegen wir uns zwischen weichen Clearvocals, zu einem eher thrashigen Gesang, bis zu Screams. Ein markantes Merkmal dieses Albums.
Mit härterem Klang und viel Energie steht der titelgebende Song "Breathe in Colours" günstig aufgestellt. Hier sind erneut die vielseitigen, aber tendenziell härten Vocals hervorzuheben.
Ähnlich wie "Miss Madness" aus ihrem ersten Album, ist auch "Is It Gone?" eher emotional und langsamer und gibt dem neuen Album einen Song mit dem Pfiff einer Ballade. Ähnliches passiert auch bei "Say Your Goodbyes".
Darauf folgt jedoch "Do Your Worst", welcher schon anders konzipiert ist. Anhaltende Gitarrenriffs erstrecken einen klaren Spannungsbogen über den Song und außerdem liefert der Song einen guten Breakdown.
"Embrace The Tide" liefert einen passenden Abschluss, die Stimmung ist hoffnungsvoll und klänge live bestimmt sehr eindrucksvoll, vom altgedienten Weg wird jedoch hier auch nicht wirklich abgeschieden (der Song erinnerte mich kurzzeitig an das Solo-Projekt von Skillet-Drummerin Jen Ledger).

Laut eigener Aussage wurden analoge Aufnahmegeräte benutzt. Es ist auch bemerkenswert, dass es möglich war, eine Theremin so offensiv zu benutzen, wie es besonders bei "Rewind" getan wurde. Man kann sich sehr über den Klang freuen, die Gitarren und Effekte klingen sehr voluminös und auch die Vocals wurden ausgezeichnet aufgenommen.
Man merkt jedoch auch, dass die Songs nach einen übergreifenden Muster strukturiert sind. Harte Intros und Zwischenpassagen wechseln mit eher melodischen Refrainteilen. Von dieser Struktur wird leider nicht zu häufig abgewichen. Dennoch geht die Stimmung dadurch nicht unbedingt verloren, aber an allgemeiner Abwechslung fehlt es. Damit wird zwar Stiltreue bewiesen, aber es gibt kaum Ausreißer.
In den "Klassikern" des Albums, hier gemeint "Rewind", "Is It Gone?", "Breath In Colours", "Rising Over You", auch "Embrace The Tide" werden Synths und elektronische Effekte zum Konzept passend eingesetzt. Jedoch kann das nicht von allen Songs gesagt werden und somit könnten sie auch ohne größere Probleme dem vorherigen Album zugeordnet werden.

Am Ende könnte man das vielleicht so formulieren: Das Album präsentiert sich sich konzeptionell ausgefallen, der Klang ist intensiv und die Vocals sind ausgesprochen divers, was definitiv eine der Stärken von FOREVER STILL ist.
Allerdings schwächelt das Album dabei wirklich abwechslungsreich zu klingen und sich stilisttisch vom Vorgänger abzusetzen. Ein Hörempfehlung gibt es dennoch.

Veröffentlicht wird "Breathe in Colours" am 29. März via Nuclear Blast Records, über Release-Shows ist bis zum jetzigen Zeitpunkt jedoch noch nicht bekannt.
(Clemens Düsterhöft)