Pfingstwochenende (Freitag, 7. Juni bis Sonntag, 9. Juni)
Der Pott wird kochen!
»Auch wenn es mit jeder Ausgabe zunehmend schwerer wird, gibt es immer noch jede Menge Künstler, die noch nie auf dem Rock Hard Festival gespielt haben. Und die haben für uns nach wie vor Priorität, wobei Musiker, die gut beim Publikum angekommen sind, natürlich gerne wiederkommen dürfen«, kommentiert Rock-Hard-Herausgeber Holger Stratmann die bisherigen Band-Bestätigungen.
Letzteres gilt ganz sicher für ANTHRAX, die nur bei der Premiere 2003 auf der Kanalbühne standen und jetzt mit Stammsänger Joey Belladonna ihr reichhaltiges Hit-Repertoire in 90 Minuten auswalzen werden. Nach der großen "Pumpkins United"-Tour mit Helloween nimmt sich Kai Hansen 2019 wieder Zeit für ein paar wenige ausgewählte GAMMA RAY-Shows. Wir freuen uns, dass wir die deutsche Metal-Legende als einen der Headliner für unser Festival gewinnen konnten.
CANNIBAL CORPSE, WATAIN und POSSESSED sind in Sachen tödliches Düstermetall so etwas wie die internationale Messlatte ihrer Genres. Auf der anderen Seite des musikalischen Spektrums stehen die US-Melodic-Metaller FIFTH ANGEL und HEIR APPARENT, die mit neuen Alben Amphitheater-Premieren feiern, sowie die britischen Legenden MAGNUM. Sleaze-Party pur ist bei SKID ROW zu erwarten, während SYMPHONY X alle Fans von schnellen Notenfolgen begeistern dürften. CARNIVORE A.D. haben zuletzt bei der Übertragung des Hellfests auf Arte als Pete-Steele-Vermächtnisverwalter überzeugt. Deutschlands beliebteste Postrock-Band LONG DISTANCE CALLING stattet auf eigenen Wunsch Gelsenkirchen ihren ersten Besuch ab, und die TYGERS OF PAN TANG setzen die Tradition britischer Achtziger-Legenden auf dem RHF fort. Scott "Wino" Weinrich gehört mit THE OBSESSED zu den Urvätern des US-Doom. Die Amerikaner VISIGOTH sind das zurzeit heißeste Echtmetall-Thema des Untergrunds, die blutjungen isländischen Retro-Rocker THE VINTAGE CARAVAN dagegen ein Geheimtipp für Hendrix-Fans. Und auch THE IDIOTS um das Dortmunder Punkrock-Original Sir Hannes, die die Veröffentlichung ihres nächsten Albums mal in Gelsenkirchen feiern wollen, haben noch nie auf dem Rock Hard Festival gespielt. Das Gleiche gilt natürlich auch für die jungen Ruhrpott-Raketen TYLER LEADS, die Speed-Metaller THE VULTURE und CHAPEL OF DISEASE, die mit der Rock-Hard-Empfehlung "Album des Monats" ins Amphitheater kommen.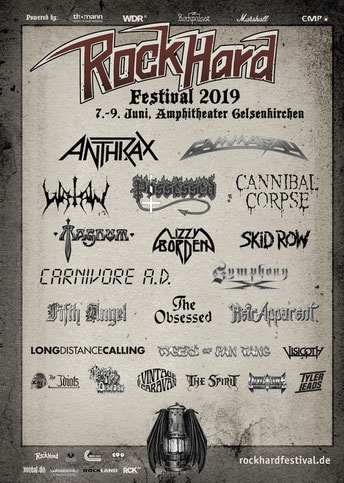 Wie immer ein handverlesenes Programm aus der Rock-Hard-Redaktion mit teils exklusiven Auftritten. Weitere Bands sind bereits unter Vertrag, dürfen aber erst später bekannt gegeben werden. Das neue Poster im Rock-Hard-Retro-Design stammt vom Essener Künstler Björn Gooßes.
Nur 7.500 Karten werden für das Amphitheater verkauft, das mit seinen aufsteigenden Rängen für die perfekte Sicht aufs Bühnengeschehen sorgt. »Das vergleichsweise intime Ambiente ist nach wie vor der größte Pluspunkt der Veranstaltung«, betonen die Rock-Hard-Macher einmal mehr den stets familiären Charakter des Festivals, bei dem sich die Musiker gerne unter das Publikum mischen und die Fans mit Sprechchören die Security (!) feiern. Eine Händler-Meile, Gitarren-Equipment zum Ausprobieren, ein Biergarten mit DJ, Flipperautomaten und eine Nacht- Disco im neuen Design runden das Programm ab. Die Erlöse aus den Pfandsammelaktionen gehen - wie in den Jahren zuvor - an gemeinnützige Organisationen.
Die 3-Tages-Tickets kosten 97,90 Euro inklusive aller Gebühren (Ticket + Camping: 123,80 Euro).
Ticketlink:
https://shop.rockhard.de/rock-hard-festival.html
Aktuelle Informationen, Videos und Interviews der beteiligten Bands sowie Impressionen vom Gelände findet man auf den Festival-Pages:
www.facebook.com/rockhardfestival
Bisher bestätigte Bands ROCK HARD FESTIVAL 2019:
ANTHRAX
GAMMA RAY (Erste NRW-Show seit 2015!)
CANNIBAL CORPSE
WATAIN
POSSESSED (Exklusive Festival-Show in Deutschland!)
MAGNUM
SKID ROW
SYMPHONY X
FIFTH ANGEL
CARNIVORE A.D.
THE OBSESSED
TYGERS OF PAN TANG
LONG DISTANCE CALLING
THE VINTAGE CARAVAN
HEIR APPARENT
VISIGOTH
CHAPEL OF DISEASE
THE IDIOTS
TYLER LEADS
THE VULTURE
+ weitere 2 Top Acts!
(Quelle: www.rockhard.de)