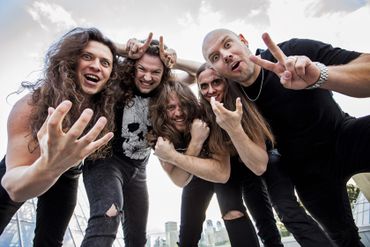 + Neues Lyric-Video "Heart of Lies"
+ Nordamerikatour zusammen mit Unleash The Archers
+ Crowdfundingkampagne zum Album startet am 9. August
Die kanadischen Shredder von STRIKER, Meister darin, klassischen Heavy Metal, Hard Rock und 80er-Hair-Metal zu einer modern klingenden, explosiven Mixtur zu verarbeiten, werden am 26. Oktober 2018 ihr sechstes Album "Play To Win" über SAOL veröffentlichen! Wie man an Artwork und Tracklist schon erahnen mag, befinden sich auf der Scheibe zehn zum Fäusterecken animierende, shredtakuläre Hymnen die von der Band produziert und von Hendrik Udd (Firewind, Powerwolf, Hammerfall, Delain) gemixt wurden.
Das Album ist ein Nachfolger zu ihrem 2017er selbstbetitelten Werk, mit dem die Band unter anderem zusammen mit Sonata Arctica, Dark Tranquillity und Warbringer durch Europa und Nordamerika tourte, einschließlich Festivalauftritten auf dem Bang Your Head, 70.000 Tons Of Metal und mehr. In ihrer über zehnjährigen Karriere hat die Band fast 1000 Shows absolviert!
Jenes fünfte Studioalbum brachte ihnen außerdem eine Nominierung für den JUNO Award, den kanadischen Grammy, ein, und räumte den Siegerplatz bei den Edmonton Music Awards und den Western Canadian Awards ab.
Begleitend und unterstützend zur Veröffentlichung von "Play To Win" werden STRIKER am 9. August auf ihrer offiziellen Website www.striker-metal.com eine Crowdfundingkampagne starten!
Gitarrist Tim Brown sagt hierzu: "'Play To Win' bedeutet, dass du, wenn du gewinnen willst, das Spiel spielen musst. Finde die Regeln - und brich sie! Dies ist unser sechstes Album und das dritte als Independent-Veröffentlichung. Hätten wir die Regeln befolgt und auf die Leute aus der Musikindustrie gehört, hätten wir bis heute absolut nichts erreicht. Play To Win bedeutet, auf deine innere Stimme zu hören, deinem eigenen Weg zu folgen und das in deinem Ärmel versteckte fünfte Ass auszuspielen. Dieses Album soll dir Feuer unter dem Hintern machen, dich in Bewegung bringen, und wir haben sichergestellt, dass wir den modernsten und markerschütterndsten Sound der möglich war hinbekommen. Es geht alles darum, wohin der Metal sich entwickelt, wohin er geht, und nicht darum, wo er gewesen ist, und dies ist unser Soundtrack zum Erfolg."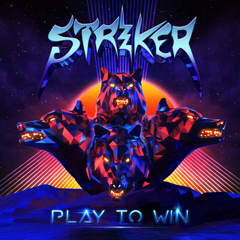 Tracklist:
01. Heart of Lies (4:04)
02. Position of Power (3:40)
03. Head of Power (4:02)
04. On The Run (3:51)
05. The Front (4:02)
06. Play To Win (3:48)
07. Standing Alone (4:56)
08. Summoner (4:04)
09. Heavy Is The Heart (4:54)
10. Hands of Time (3:46)
Spielzeit: 41:11
Das neue Lyric-Video der Band zum Song "Heart Of Lies" findest du hier:  https://youtu.be/lEdpYh-EkrI
Über Striker:
Striker sind eine in Edmonton beheimatete Band, die in ihrem mehr als 10jährigen Bestehen immens gereift ist. Als eine an klassischen Heavy Metal, Hard Rock und 80er-Hair-Metal angelehnte Mischung enthält ihre Musik kraftvolle, cleane Vocals, eingängige Refrains mit Harmony Vocals und beeindruckende Leadgitarren.
Das Publikum wird von der Energie ihrer Shows von den Füßen gerissen und ihre Aufnahmen von Fans und der Musikbranche weltweit fantastisch aufgenommen. Striker haben sowohl als Support für die ganz großen Metal-Acts als auch als Headliner dutzende Länder bespielt. Mit der kommenden Albumveröffentlichung ist für diese Kanadier nun nur noch der Himmel die Grenze!
Für mehr Infos:
https://www.facebook.com/strikermetal
https://twitter.com/StrikerMetal