ACCEPT kündigen in Zusammenarbeit mit ihrem langjährigen Partner Continental Concerts die "Rise Of Chaos"-Festivals in Deutschland an! Das Flaggschiff des deutschen Heavy Metals startet eine Festival Reihe, bei der jungen aufstrebenden Bands oder auch Underdogs eine Plattform geboten wird, die auch den Fans zugutekommen soll, indem immer neue Pakete mit interessanten Gruppen geschnürt werden.
Zur ersten Ausgabe dieser "November Festivals" laden sich die sehr engagierten Heavy-Metal-Legenden niemand geringeren als ORDEN OGAN, REFUGE und MONUMENT ein. Während ORDEN OGAN mittlerweile zur Speerspitze des deutschen Power Metals zählen, warten REFUGE (mit original RAGE Line-Up von 1988 bis 1993) mit leicht thrashigem Ruhrpott-Metal! Fans der alten RAGE-Ära werden hier also auf ihre Kosten kommen. Mit MONUMENT dürfen sich die Heavy-Metal-Begeisterten von alten MAIDEN & PRIEST z.B. auf etwas gefasst machen: die noch relativ jungen Briten zitieren in ihrer Musik mit Liebe ihre alten Helden und sorgen somit für das Flair der 80er!

Und da wäre ja auch noch der Headliner in der "besonderen" Gastgeberrolle: ACCEPT! Seit 2010 wieder im Rennen wissen sie, frisch wie eh und je - aber diesmal, zielsicherer denn je um - nach einer fast 15-jährigen Pause - mit allen 4 neuen Alben in den Top 10 der Sales Charts (inkl. "Blind Rage" auf #1 ) zu punkten. Sie haben sich selbst mit ihren neuen Songs Konkurrenz geschaffen, denn die Fans singen mit - wie immer laut und begeistert! Wie z.B. bei "Koolaid" oder wenn sie andere Highlights ihrer aktuellen Platte zum Besten geben, ohne natürlich auch ihre altbekannte Hits zu vergessen. Und wer kann bei "Balls To The Wall", "Fast As A Shark" und "Metal Heart" schon die Rübe stillhalten?

In den vergangenen Monaten waren die inzwischen international besetzten Stahlarbeiter aus Nordrhein-Westfahlen nicht untätig und finalisierten die Arbeiten an ihrem kommenden Live-Release »Symphonic Terror – Live at Wacken 2017«, welches am 23. November über Nuclear Blast erscheinet.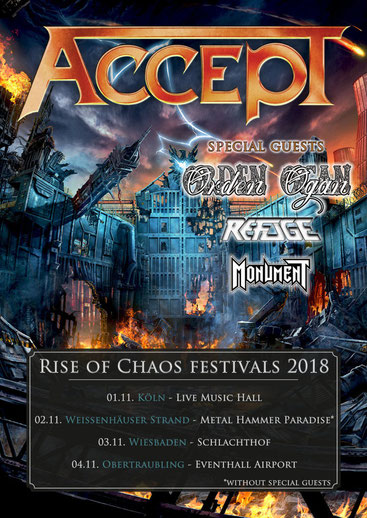 Die Fans dürfen sich auf die einzigartige, zweistündige ACCEPT-Show freuen, die am 3. August 2017 auf dem "heiligen Rasen" des legendären W:O:A stattfand. Dort spielten ACCEPT vor über 80.000 Leuten (und mehreren hunderttausend Fans im Livestream) ihre bis dato größte und außergewöhnlichste Show. In drei Teilen präsentierten ACCEPT ihre gesamte Kreativität und Schaffenskraft. Eröffnet wurde das Set im gewohnten Metal-Gewand, inkl. der Weltpremiere des neuen Tracks 'Die By The Sword', der Live-Feuertaufe ihrer Single 'Koolaid' sowie Gassenhauern wie 'Restless And Wild' und 'Pandemic'.
Im Mittelteil präsentierte Gitarrist Wolf Hoffmann, begleitet von einem kompletten Symphonie-Orchester, in spektakulärer Manier das Beste aus seinem aktuellen Solowerk »Headbangers Symphony«, das die Metal-Versionen der größten und bekanntesten Klassik-Werke - von Meistern wie z.B. Beethoven, Mozart und Vivaldi  - auf die Bühne brachte.
Im großen Finale dann, erlebten die begeisterten Zuschauer erstmals die größten Hits und Kracher von ACCEPT mit Orchester-Begleitung! Den Auftakt bildete die Metalhymne 'Princess Of The Dawn', gefolgt von Klassikern wie 'Breaker', 'Fast As A Shark', bis hin zu dem für dieses Event geradezu prädestinierte 'Metal Heart'. Ebenso frenetisch gefeiert wurden die Hits ihrer jüngsten Alben, wie z.B. 'Stalingrad', 'Shadow Soldiers' und 'Teutonic Terror', ehe zum Finale furioso eine über 8-minütige Version ihres Mega-Songs 'Balls To The Walls' die Massen in Ekstase versetzte.

"Intensität und Präzision haben sich hierbei gefunden", erklärt Wolf Hoffmann die nahtlose Verschmelzung von Heavy Metal und Klassik und freut sich über die breitgefächerte Zustimmung seitens der Metalfans. "Die Fans sind extrem aufgeschlossen", resümiert der in Wuppertal geborene Gitarrist, der dennoch bis kurz vor dem großen Auftritt nervös war, "schließlich ist es ein Metalfest! Aber ich glaube dass die Jahrzehnte, in denen wir diese beiden Welten jetzt schon miteinander verbinden, zu einer ehrlichen Akzeptanz seitens der Fans geführt haben."

Übrigens: Was in Wacken als Uraufführung begann und (Live-Streams sei Dank) auf der ganzen Welt für Aufsehen und größte Anerkennung sorgte, geht im Frühjahr 2019 in Serie.
Das heißt: ACCEPT planen ab Frühjahr 2019 eine große Tour mit Orchester durch ganz Europa!
"Ich hoffe, wir können unsere Ideen umsetzen -  es wird jedenfalls mit Hochdruck daran gearbeitet", holt Wolf Hoffmann in Vorfreude auf dieses nächste große Abenteuer aus. "Was ich bereits jetzt sagen kann ist, dass es optische und musikalische Überraschungen geben wird, die man so nicht unbedingt mit ACCEPT in Verbindung bringen würde. Ich will die Gunst der Fans, die sich in Wacken so haben mitreißen lassen, weiter ausbauen. Wir können alle guten Wünsche der Welt gebrauchen und eines ist sicher: 2019 wird spannend!"
Weitere Infos:
www.acceptworldwide.com
www.facebook.de/accepttheband
www.nuclearblast.de/accept