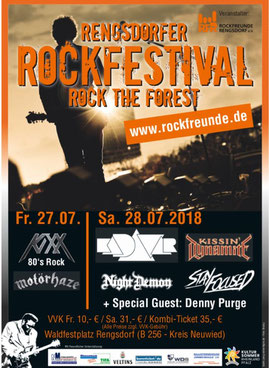 Bei den Rockfreunden Rengsdorf e.V. laufen die Vorbereitungen für das Rengsdorfer Rockfestival am 27./28.07.18 (dieses Mal mit Kadavar, Kissin' Dynamite, Night Demon, Stay Focused, Denny Purge, KIXX und Motörhaze) auf Hochtouren. Der Vorverkauf bei allen bekannten Vorverkaufsstellen (z.B. Bonnticket oder Eventim) hat bereits begonnen. Auch die begehrten Hard-Tickets sind wieder an der ED-Tankstelle in Rengsdorf erhältlich.
Das Rengsdorfer Rockfestival geht in die 38. Runde und gehört somit zu den ältesten Open-Air- Festivals in Deutschland. Gerade in Zeiten in denen viele kleine Festivals ums Überleben kämpfen, gelingt es den Rockfreunden Rengsdorf immer wieder ein überregional bekanntes, hochkarätiges Festival mit national und international bekannten Künstlern auf die Beine zu stellen.
Für das Festival 2018 präsentieren die Rockfreunde folgende Leckerbissen: Freitag:
Motörhaze
Mit Rock-Klassikern wie "Ace of Spades" – "Killed by death" –"No class" oder "Bomber" halten Motörhaze aus Koblenz Lemmy's Erbe am Leben, sodass es selbst eingefleischten und hartgesottenen Fans Tränen in die Augen treibt, weil man das Gefühl hat, ER wäre noch am Leben.
Kixx
Legendäre Riffs, inspirierende Melodien und mitreißende Hooklines einer glorreichen Ära, welche bis heute Generationen geprägt haben. Von Mötley Crüe, Scorpions, Van Halen und Whitesnake, bis hin zu Guns'n Roses, Skid Row, Kiss und noch vielen weiteren 80s Rock Giganten sorgt KIXX für rockige Stimmung
Am Samstag dominieren Originale auf der Open-Air-Waldbühne:
Kadavar
Die 2010 gegründete Band, welche den Stilrichtungen Proto-,Stoner- und Psychedelic-Rock zuzurechnen ist, befindet sich derzeit auf World-Tour und wird dabei auch die Westerwald- Metropole Rengsdorf besuchen. Bereits auf dem Wacken- und Rockharz Open Air legte Kadavar erfolgreiche Auftritte hin und reist nun rund um die Welt, um unter anderem ihr neues Album "Rough Times" zu präsentieren
Kissin' Dynamite
Die Hardrocker aus dem schönen Süden der Republik, sind seit Jahren der Inbegriff für Aktivität, Erfolg, Professionalität –und nicht zuletzt- energiegeladene Liveshows. Auch wenn die Bandmitglieder in diesem Jahr erst die 25 Lenze voll machen, so veröffentlichen Kissin' Dynamite mit "Generation Goodbye" bereits ihr fünftes Album.
Night Demon
Night Demon ist eine in 2011 gegründete kalifornische Heavy- Metal-Band. Neben Auftritten auf dem "Bang Your Head" sowiedem "Rock Hard" Festival und vielen weiteren Auftritten auf der internationalen Bühne, spielt Night Demon dieses Jahr auch erstmals auf dem Wacken Open Air!
Stay Focused
Stay Focused aus Limburg sind wie eine leckere Pizza. Der Boden ist immer derselbe, aber jeder kann seine Lieblingszutaten wählen. Verfügbar sind: Alternative, Modern Punk, New Prog, Emo, Post- Hardcore, Alternative Metal, Melodic Hardcore, Post-Rock, Indie Rock, Alternative Rock.
Denny Purge
Der Koblenzer Singer-Songwriter Denny Purge steht für handgemachte und ehrliche Musik ohne Rockstar-Allüren.Mit Fingerpicking-Gitarre und samtiger Stimme singt er über die Dinge des Lebens die sich nicht aussprechen lassen, doch worüber zu schweigen unmöglich ist. Auf seinem Debüt-Album "Speaking Of Ghosts" zeigt er mit puristischen Klängen, dass Intensität nicht immer laut sein muss.
Einlass: Freitag 19:00 Uhr, Samstag:18:00 Uhr
Tickets: Freitag VVK 10 Euro, Samstag VVK 31 Euro, Kombi-Ticket: VVK 35€ (zzgl. VVK Gebühren) Veranstalter: Rockfreunde Rengsdorf e.V.
Vorverkauf und weitere Infos unter: www.rockfreunde.de