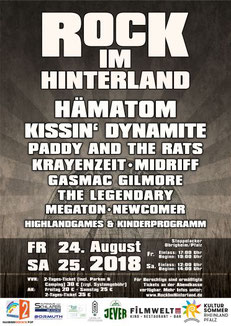 Hallo ihr Punker, Rocker, Metaller und all die anderen Musikbegeisterten!
Wir von Rock im Hinterland freuen uns auf ein weiteres Jahr mit euch, auf den geliebten Stoppelacker, auf Steak-Brötchen, Bier und einer Auswahl an Musik, die keine Wünsche offenlässt!
Der Acker 2017 auf dem Stoppelacker war neu für uns und für euch, wir haben viel erlebt, sind fast weggeflogen, hatten jeden Morgen einen riesigen Kater und Stress ohne Ende! Doch das alles hat uns nicht abgeschreckt, nein wir wollen mehr! Jetzt haben wir einen Plan und danken euch für eure Hilfe dabei!
Dieses Jahr haben wir wieder einige schon bekannte und ein Paar noch eher unbekannte Bands zu Gast, von indischen Einflüssen bis hin zu Death-Metal ist für jeden etwas dabei!
Freitags beginnen wir mit Megaton (der Sänger ist jetzt auch bei den Busters zu finden). Mit the Legendary werden wir dann tollen classic Rock erleben dürfen und sie bereiten uns optimal auf Kissing Dynamite vor! Die starten mit ihrem aktuellen Album in die Nacht und geben uns saubere Klänge auf die Ohren. Den Abschluss machen Paddy and the Rats die mit ihren irisch und keltischen Einflüssen, dem eigenen Stil und ein bisschen Fantasie etwas ganz Neues schaffen.
Auch am Samstag stehen wir wieder mit unseren Highland-Games auf dem Platz und freuen uns über alle die ein bisschen Lust haben auf gratis Bier und ganz viel Spaß. Für die Kleinen ist auch gesorgt mit einem allseits beliebten Kinderprogramm, welches in der Vergangenheit nicht nur Kids sondern auch Junggebliebene erfreut hat.
Die ersten musikalischen Klänge an diesem Nachmittag erreichen uns dann von Midriff, direkt gefolgt von Gasmac Gilmore. Sobald dann auch der Letzte aus seinem Zelt gekrochen ist, werden Hämatom mit ihren sozialkritischen Texten so richtig einheizen! Und um dem ganzen dann noch den besten Absch(l)uss zu geben, kommen Krayenzeit mit einer Powertruppe von sieben talentierten Musikern um auch das letzte Bein noch zum Schwingen zu bringen!
Wie jedes Jahr stehen wir euch natürlich mit Verpflegung zur Seite und verschiedenste Händler schmücken unseren Platz!
Für alle die, die noch mehr von uns Erfahren, die uns kennenlernen und am Acker wiedersehen möchten, haben wir einen kleinen Film gedreht der auf unserer Website zu finden ist. Hier enthüllen wir Geheimnisse, verraten was an so mancher Legende dran ist und zeigen uns von einer bisher unbekannten Seite.
Der Vorverkauf der Festivalkarten hat bereits begonnen. Karten gibt es online bei Reservix und für Fans von Hardcovertickets gibt es limitierte Karten in der Filmwelt Grünstadt.
Die Festivalkarten (Freitag + Samstag inclusive Camping) kosten im Vorverkauf 30 Euro (+VVK-Gebühren). An der Abendkasse kosten die Festivalkarten 35 Euro. Der Freitag kostet an der Abendkasse 20 Euro, der Samstag 25 Euro.
Das Festival findet am 24. und 25. August 2018 auf dem Stoppelacker bei Obrigheim (Pfalz) statt.
Wir freuen uns auf ein weiteres Rock im Hinterland und wünschen allen neuen und alten Gesichtern ein tolles Festival!
Liebe Grüße,
euer Rock im Hinterland e.V.