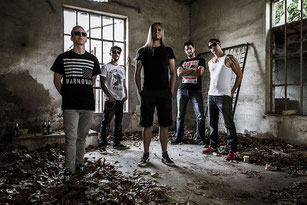 Die Hessen ONE LAST LEGACY haben einen Plattendeal bei MDD / Black Sunset unterschrieben. Das neue Werk "II" wird demnächst auf dem Label veröffentlicht.
Das Label veröffentlicht folgendes Statement:
Das Quintett, welches brachialen Modern Metal Sound mit den besten Elementen aus skandinavischem Melodic-Death zusammenfügt, wird noch in diesem Jahr den Nachfolger ihres 2013er Debuts "Chapter One – Into The Unknown" auf Black Sunset Veröffentlichen. Die Arbeiten am neuen Album, welches im Kohlekeller Studio aufgenommen und veredelt wurde, sind weitestgehend abgeschlossen. Mehr News schon bald!
Es mag momentan wohl kaum eine andere Band geben, die modernen Metal so zu zelebrieren weiß wie ONE LAST LEGACY. Ihr brachialer Sound (aufgenommen und veredelt im Kohlekeller Studio) fügt die besten Elemente aus skandinavischem Melodic-Death mit einem Sound zusammen, den man vornehmlich von amerikanischen Bands wie MACHINE HEAD oder FIVE FINGER DEATH PUNCH kennt. Dazu ist das Duo Roick/Szechowski in der Lage, brillante Songs zu gestalten. Mit voller Wucht und dennoch mit einem Gespür für grandiose Melodien – das sind die Eigenschaften, die ONE LAST LEGACY durchaus zu einer der besten deutschen Bands aus diesem Genre zählen lässt. Bereits das Debüt "Chapter One – Into The Unknown" (2013) konnte bereits die Presse überzeugen und ist ein Zeugnis dessen, dass diese 2011 gegründete Band in eine rosige Zukunft blicken kann. Mit "II" haben ONE LAST LEGACY mit ihrer ergebnisorientierten Arbeitsweise weiter entwickelt und sind sich dennoch treu geblieben. Sie haben ihren ganz eigenen Sound gefunden und sind bereit, den nächsten Schritt zu gehen. Dank einer professionellen Einstellung und einem durchdachten Konzept wollen ONE LAST LEGACY mit einem Label an der Seite eine feste Institution in der deutschen Heavy Metal Gemeinde werden!
Lead Guitar – Christopher Szechowski
Rhythm Guitar – Tim Sauer
Vocals – Tobias Roick
Bass – Thomas Lösch
Drums – Silas Schue
https://www.youtube.com/watch?v=_PwBCx-ovV8