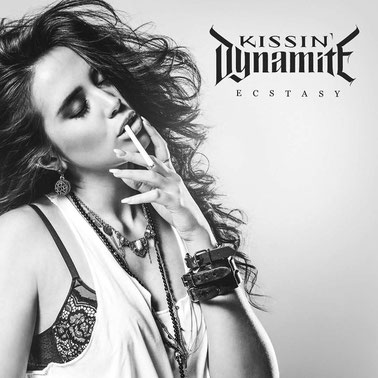 VÖ: 06.07.2018
Label: Sony Music/Metal Blade
Format: CD
Tracklist:
01. I've Got The Fire
02. You're Not Alone
03. Somebody's Gotta Do It
04. Ecstasy
05. Still Around
06. Superhuman
07. Placebo
08. Breaking the Silence
09. Waging War
10. One More Time
11. Heart of Stone
12. Wild Wind (Bonustrack)
13. No Time to Wonder (Bonustrack)
Back to the roots, oder forward to the future?
Mit ECSTASY bringen KISSIN' DYNAMITE ihr bislang sechstes Studioalbum auf den Markt. Schon seit Bekanntgabe des Releases wurde immer wieder gesagt, dass die Band damit wieder in ihre Anfänge zurückkehrt.
Ich dagegen finde eher, ECSTASY ist ein weiterer Schritt in die Zukunft und bestätigt einmal mehr, wie wandelbar, kreativ und zukunftsorientiert KISSIN' DYNAMITE sind. Dieses Album strotzt nur so vor ehrlichem, gradlinigem Rock der völlig ohne chichi und dafür mit viel Charakter daher kommt.
Der Eingangstrack I've Got The Fire ist ja bereits als erste Single bekannt und ein absoluter "In Your Face"-Song, wie man ihn von den Schwaben kennt. Warum gerade dieser Song als vorab-Häppchen präsentirt wurde, hat uns Ande in einem Interview erzählt: "Wir dachten IGTF wäre der perfekte Wachrüttler nach dem Winterschlaf, den wir allen auferlegt haben :) Außerdem passt der Titel doch super zu unserem Bandnamen :)"
Auch der Titeltrack Ecstasy ist schon als Single-Auskopplung bekannt. Als Goodie hat dieser die Gastsängerin Anna Brunner (Exit Eden) dabei. Hier gefällt sie mir stimmlich auch sehr viel besser als bei Exit Eden selbst, ein großer Unterschied zu Hannes' Gesang ist allerdings nicht deutlich erkennbar. Der Track hätte dieses Duett also nicht zwingend gebraucht und käme auch so sehr gut rüber. Und natürlich finden sich auch auf ECSTASY mit Still Around und Heart Of Stone wieder wunderschöne, gefühlvolle Balladen. Die Mischung macht's! Nicht zu viele Balladen, um nicht als Schmuseband abgetan zu werden, aber trotzdem genug um zwischen dem Rocken etwas durchzuatmen. KISSIN' DYNAMITE überzeugen meiner Meinung nach wieder mal auf ganzr Länge mit eingängigen Texten, schönen Melodien und dem eben ganz typischen KD-Style, den man aus jedem Album sofort raus hört. "Ich denke, man erkennt bei uns schon ein Muster was Songwriting angeht. In den Strophen sind wir meist eher rhytmisch und wenig melodiös unterwegs. Der Refrain explodiert dann förmlich. Das ist halt der KD-Stil :)", so Ande.

Im Grunde muss man zu KISSIN' DYNAMITE nicht mehr viel sagen. Der Name ist ein garant für gute Musik die gute Laune macht und zu der man einfach nur feiern möchte. ECSTASY ist einmal mehr ein Beweis dafür.
Ich bin sehr gespannt welche Songs dieses neuen Albums es in die Live-Setlist schaffen werden, aber bin mir sehr sicher, dass die Band die neuen Songs auch wieder perfekt live umsetzen wird. Wo ihr die Jungs live erleben könnt, entnehmt doch unseren Tourdaten. Sobald die Dates der nächsten Headliner Tour fest stehen, werden wir euch natürlich darüber informieren.
(Sarah Jacob)