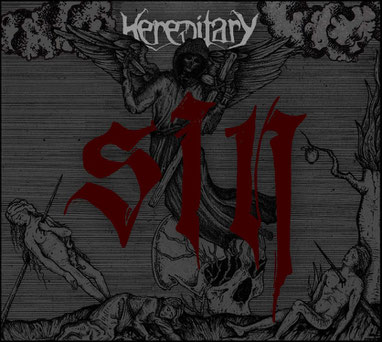 VÖ: 18.05.2018
Format: CD
Tracklist:
01. Prophecy of Fear
02. Resurrected Persecutor
03. Desolate Cremation
04. Buried in Exploited Flesh
05. Impurity
06. Evilution
07. Pelagos
08. The Sound of Pestilence
09. Angel of Decay
10. Vengeance
11. Flesh & Bones
12. Sacharja
13. Inception of the End
"Götebonner" Totmetall im Aufmarsch
Sicherlich gibt es viele gute Bands, die es wert sind supportet zu werden. Diese Bands verdienen in der Szene meist schon ganz gut und können sich einer gewissen Fananzahl erfreuen. Was man aber niemals vergessen sollte ist der Nachwuchs! Wenn es die großen Helden irgendwann nicht mehr gibt, braucht man neue Helden.
Dabei kann ich in der Death Metal Schublade mit gutem Gewissen das aktuelle Album von HEREDITARY aus Bonn hervor ziehen! Nach der 2015 veröffentlichten EP ANGEL OF DECAY folgt nun das Debütabum SIN. Das schön gestaltete Cover von Marina Borrmann ist einmal mehr sehr gut gelungen. Leider befindet sich in diesem Digipack kein Booklet mit weiteren Grafiken oder gar Fotos, oder, wer es braucht, Songtexte, trotzdem ist es für eine Undergroundband optisch und qualitativ sehr nice geworden!
Musikalisch kann SIN hier auch mithalten und verpasst dem Zuhörer Song um Song eine sehr gründliche Massage des Gehörgangs. Schon von der ersten Note wird man sprichwörtlich in den Bann des Albums gezogen und kann gar nicht anders, als den Silberling immer weiter rotieren zu lassen. Achtung: Suchtgefahr! 
Ob man einfach Fan von brutalen Growls, harten, schnellen Riffs oder fetten Drums ist, all das findet man auf SIN in dreizehn sehr gut produzierten und mit sicherlich sehr viel Herzblut geschriebenen Songs vereint.
Was den unsicheren Leser nun vielleicht letztendlich überzeugen kann: bei diesem musikalischen Leckerbissen hatte niemand geringerer als 'his unholyness' Dan Swanö seine Finger im Spiel! Der Göteborger produzierte bereits Bands wie Opeth, Katatonia, Dessection, Marduk oder auch Dark Funeral. Und wem das jetzt noch immer nicht reicht, der kann sich das vorab veröffentlichte Musikvideo zu Resurrected Persecutor angucken: https://youtu.be/H73vy5iDw1g
Und wem das nun immernoch nicht reicht, der sollte sich die Band einfach mal live angucken. Die Termine findet ihr in unseren Tourdates, oder auf der Seite von HEREITARY selbst.
(Sarah Jacob)