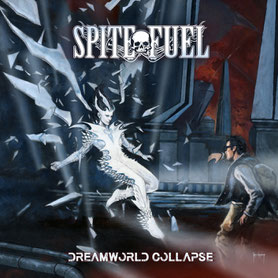 VÖ: 27.04.2018
Label: MDD Records
Format: CD
Tracklist:
01. Prologue: 8389 A.D.
02. Brick By Brick
03. The Secret
04. Ouverture: Inside The Sphere
05. Dreamworld Collapse, Pt. I
06. Interlude: The Funeral Of Youth
07. Dreamworld Collapse, Pt. II
08. Iconic Failure
09. Under Fire
10. Brilliant White Lies
      Pt. I: What we've Chosen
      Pt. II: The Raging Quiet
      Pt. III: Deconstructing a Falling Star
11. Grave New World
      Pt. I: They Shall Have Stars
      Pt. II: Dreamworld Revisited
12. Epilogue: 8427 A.D.
Kollabierende Traumwelt, oder ein weiteres Highlight in der Bandgeschichte?
Das zweite Werk von SPITEFUEL erfreut sich in der Pressewelt einer hohen Aufmerksamkeit. Nachdem das Debütalbum durch die Decke ging und die Band damit entsprechend hoch gestapelt hat, ist natürlich jeder gespannt darauf, ob das zweite Werk mithalten kann.
Beginnen wir mal mit dem Offensichtlichen.
Der Aufbau des Albums besteht aus einem Intro, Zwischenparts und einem Outro. Bei zwölf Tracks macht das schon mal ein Drittel "Lückenfüller", die idR zur Unterstützung des Gesamtkonzepts dienen sollen. Dazu dann später mehr. Die restlichen, richtigen Songs haben im Schnitt die übliche Tracklänge, ausgenommen Dreamworld Collapse Pt. II und Brilliant White Lies. Da stellt sich auch direkt die Frage, ob die Tracks gut gefüllt sind und nicht mit ewig dauernden Gitarrensoli künstlich gestreckt wurden. Wir werden sehen. Persönlich bin ich schon vorab etwas hin und her gerissen, da auch ich das Debütalbum extrem gut fand und mich auch die ersten beiden Konzerte im Gesamtpaket sehr überzeugen konnten, die letzten beiden Shows aber leider nicht mehr so gut gewesen sind. Auch Besucher der Shows haben verlauten lassen, dass die Leistung eher schwankend sei. Frei nach dem Motto "früher was alles besser". Wie geht man also bei einem neuen Album vor? Möglichst neutral. Hier also der Versuch dazu.
Die Einleitung zur Geschichte mit Prologue 8398 AD soll den Hörer in die Welt einer fernen Zukunft führen und eine mit viel Hall unterlegte Stimme erzählt den ersten Teil der Geschichte. Soweit, so gelungen. Brick by Brick ist ja schon als Vorabsingle bekannt und knüpft musikalisch wieder beim Vorgängeralbum an. Klassischer Heavy Metal, fette Gitarren und hämmernde Drums; insgesamt eingängige Melodien. Hier hat die Band alles richtig gemacht. Genauso geht es dann auch mit The Secret weiter. Auch hier gibt es nichts an der Musik zu meckern. Nun folgt die Ouverture: Inside The Sphere. Ein reines Instrumental. Kann meiner Meinung nach weg, aber das ist Geschmackssache. Genauso dann auch Interlude: The Funeral Of Youth. Hier hätte man die beiden Titeltracks schöner hintereinander spielen können. Das Ende von Pt I und der Anfang von Pt. II passen an sich gut zusammen. Nun sind wir auch beim ersten längeren Track angekommen, Dreamworld Collapse Pt. II, und ich kann freudig berichten, dass sich dabei keine Langeweile durch unnötig gestrecke Soli zeigt. In Pt. II gibt es auch weibliche Gastvocals zu hören, leider geht aus meinen Unterlagen nicht jervor, wer dort zu hören ist. Die nächsten Songs Iconic Failure und Under Fire sind auch wieder gut hörbar mit eingängigen Sounds und es fällt auch hier wieder leicht, Gefallen an der Musik zu finden. Brilliant White Lies (auch wieder mit Gastvocals) und Grave New World sind in jeweils drei bzw. zwei Teile unterteilt. Das hört man auch an unterschiedlichen, musikalischen Parts sehr gut raus. Neben dem klassischen Metal kommen hier auch sehr stark die orchestralen Parts zum Einsatz, was die Geschichte gut unterstreicht. Und nun dann noch der Epilogue 8427 AD - das Ende der Geschichte.
Und wer sich jetzt fragt "Ey, wieso hat die nix zum Gesagt gesagt??". Ja... hier fällt es mir etwas schwer die korrekte Wortwahl zu finden. Für mich klingt der Gesang irgendwie unvollständig und flach. Ähnlich wie es mir bei den letzten Konzerten schon aufgefallen ist, hat der Sänger an Leistung nachgelassen und trifft hier und da die Töne nicht so wie es sein sollte, was ich für die gesamte Band und die Musik wirklich sehr schade finde. Vorallem da ich weiß, dass es auch anders geht. Ich hoffe er fängt sich dahingehend wieder und findet zu alter Stärke und Ausdruckskraft zurück um weitere Fans für SPITEFUEL an Land ziehen zu können.
Grundsätzlich ist Dreamworld Collapse ein gutes und sehr gelungenes Konzeptalbum, für meinen Geschmack kommt die Thematik der Geschichte allerdings nicht richtig zur Geltung, da die Musik (klassischer Heavy Metal) nun eben etwas "altes" ist und die neueren Einflüsse an orchestralen Elementen etc. nicht genug in den Vordergrund kommen. Lässt man diesen Aspekt allerdings außen vor, gibt es nicht so viel zu meckern. Auch der neue Bassist im Lineup scheint sich gut in die Band eingespielt zu haben und harmoniert mit dem Rest der Musiker.
Die Hauptproduktion wurde auch, wie beim Vorgänger, in den Gernhardt Studios gemacht. Die orchestralen Elemente stammen von Michael Fiedler in dessen Studios "Traumwerkstatt Mühlacker". Das Coverartwork stammt erneut von Kris Verwimp. Im drum herum setzt die Band also auf altbewährtes und fährt offensichtlich gut damit. Never touch a running system. In diesem Sinne, darf man gespannt sein, was als nächstes kommt.
(Sarah Jacob)