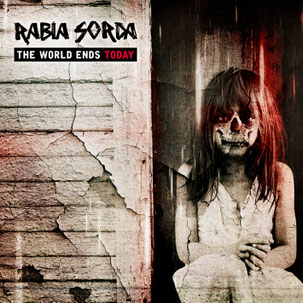 VÖ: 04.05.2018
LABEL: Out Of Line
Format: 2CD
Tracklist:
01. TWET!
02. Perfect Black
03. So Slow it Hurts
04. Estás ahí?
05. Violent Love Song
06. We're not Machines
07. Estas Conmigo…
08. Shut Up and Dance!
09. Nobody
10. Dekadenz
11. Rebellion of The Wicked
12. The World Ends Today
13. Despierta
14. Møther
15. Don't Run! (The Evil Within)
16.Words in Scars
17. Перезвони мне
Explota! (La Bomba En Mi Cabeza) (CD2)
01. Demolición
02. Explota! (La Bomba En Mi Cabeza)
03. Hasta Nunca…
04. Guten Morgen!
05. Dekadenz (Cypecore RMX)
06. Violent Love Song (Chemical Sweet Kid RMX)
07. We're not Machines (Nostalgic Machine / Cover Version by Prismatic Shapes)
08. Violent Love Song (72 hrs. Panic Attack Vitam non Mortem RMX)
Der Weltuntergang klopft an die Tür...
...let's start a riot!
Und genau das ist Programm. Die mexikanisch/deutsche Kombo RABIA SORDA schafft mit The World Ends Today ihr bislang härtestes und aggressivstes Album. 
Fronter Erk brüllt sich schier die Lungen aus dem Körper und schafft es vom ersten Ton an, den Hörer in Bewegung zu vesetzen. IN YOUR FACE! Dabei ist es völlig egal in welcher Sprache er einen gerade anbrüllt. Drummer Maxx prügelt den Takt zu dem Marcus Engel auf seiner Gitarre shredded.
Nild Lesser (Cypecore) packt einen Mix dazu, der seines Gleichen sucht und schafft damit ein Werk, das man auch nicht wirklich in ein Genre sortieren kann.
Das Album beginnt mit TWET!, welches einen Telefonanruf darstellt, in dem auch nur das gesagt wird. Genauso werden die einzelnen Songs immer wieder von kleinen Einspielern unterbrochen, die ebenfalls als Stimmen am Telefon zu hören sind. Hierbei handelt es sich immer um Frauen, die etwas auf spanisch sagen/singen. Auf der Bonus-CD ist sogar ein deutscher Einspieler, auf den dann noch ein paar Remixe folgen.
Ist das noch EBM? Ja. 
Ist das schon Metal? Ja. 
Ist das Electro? Ja. 
Ist das Punk? Ja. 
Es ist alles zusammen und zersägt damit jede Schublade, in die man die Band stecken könnte. Ein Album, das nicht mehr Energie beinhalten könnte und damit auf jeden Fall eine Kaufempfehlung für alle, die mal etwas anderes möchten, als einfachen Rock/Metal/whatsoever.
Das Cover ziert die verstörend schöne Fotokunst von Dark Art by Thomas G. Anderson, der auch schon für Bands wie Asking Alexandria oder Hocico tätig war.
(Sarah Jacob)