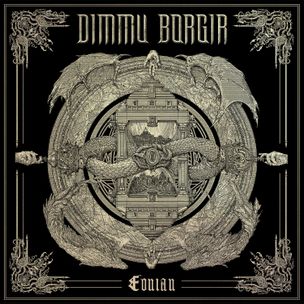 VÖ: 04.05.2018
Label: Nuclear Blast
Format: CD
Tracklist:
01. The Unveiling 5:47
02. Interdimensional Summit 4:39
03. ÆTheric 5:27
04. Council of Wolves and Snakes 5:19
05. The Empyrean Phoenix 4:44
06. Lightbringer 6:06
07. I Am Sovereign 6:48
08. Archaic Correspondence 4:55
09. Alpha Aeon Omega 5:18
10. Rite of Passage 5:16
Die Wiederauferstehung einer Legende
Wenn man über Black Metal spricht, kommt man an DIMMU BORGIR einfach nicht vorbei. Sieben lange Jahre ist es her, dass die Band aus Norwegen ihr letztes Album veröffentlicht hat. Pünktlich zum 25-jährigen Bestehen, kehren sie nun mit einem weiteren Meisterwerk zurück.
EONIAN beinhaltet alles, was man von DIMMU BORGIR erwartet. Die tiefe Schwärzen von norwegischem Black Metal, symphonische Elemente und natürlich dem Können von Frontmann Shagrath. Auf diesem Album arbeitete allerdings die komplette Band mit.
Die Thematik des Albums ist sehr philisophisch. Es setzt sich von der Illusion der Zeit und dem Lebenskonzept des Luziferianismus auseinander. In einem Statement dazu sagt die Band folgendes:
Silenoz: "Zeit kann nicht definiert werden, wenn wir uns dem Konstrukt nicht nähern, an das wir gewöhnt sind – sie ist eine reine Illusion. Es gibt nur ein 'ewiges Jetzt', auf das der Albumtitel hindeutet. Wenn wir zwischen den sichtbaren und unsichtbaren Welten reisen, hört die Wahrnehmung der Zeit auf zu existieren, sie hat keinerlei Funktion mehr. Unsere mentale Energie ist die Fackel und unser Kompass auf dieser Reise – und wenn wir unseren eigenen Schleier der Wahrnehmung vor unserem Auge zerreißen, sind wir in der Lage, alles hinter uns zu lassen und in neue Welten vorzudringen."
Shagrath: "»Eonian« spielt auf die Illusion der Zeit an, alles was ist und stets sein wird. Außerdem steht es für das 25-jährige Bandjubiläum, sodass wir mit diesem Album unserer eigenen Vergangenheit Tribut zollen und ebenso auch der allgemeinen norwegischen Black Metal-Geschichte. Einige der Songs auf diesem Album wurden 2012 geschrieben. Wir haben alle unsere eigenen Pre-Production-Studios und schreiben demnach separat, anfangs ohne zu viel Kommunikation untereinander. Über einen Zeitraum von ein bis zwei Jahren sammeln wir unsere Ideen und kommen dann zusammen und versuchen gemeinsam, das Beste aus dem Material herauszuholen. Manchmal kann das ziemlich schwierig sein, weil wir unterschiedliche Geschmäcker und Meinungen haben - aber das macht es auch für den Hörer interessanter, da wir Musik machen wollen, die einem das Gefühl gibt, nicht zu wissen, was hinter der nächsten Ecke lauert."
Silenoz: "Die größte Herausforderung besteht darin, das innere Biest zurückzuhalten. Manchmal ist man von seinen Ideen so getrieben, dass man leicht vergisst, wie man sich dem Untier nähern muss, ohne es zu wecken, denn es könnte ausbrechen und vollkommen unkontrolliert toben.
Eigentlich ist es sinnlos zu glauben, dass man Kunst jemals kontrollieren könnte... Es ist, als würde man mit einem Seil um die Hüfte in die Höhle eines Löwen gehen, für den Fall, dass man schnell herausgezogen werden muss. Da wir auch als Produzenten für unser eigenes Material fungieren, müssen wir uns oft zwingen, unser Material von außen zu betrachten. Dies ist ein weiterer herausfordernder Teil des Songwriting-Prozesses, weil du erst so viel Herzblut von dir einfließen lässt und dann anfangen musst, Dinge radikal wegzuhacken. Loslassen kann manchmal sehr hart sein, aber nur wenn wir aus uns selbst heraustreten und direkt in das Maul des Biestes starren, können wir herausfinden, womit wir es als nächstes füttern müssen."
Shagrath: "Das Album fühlt sich für uns an wie eine Wiedergeburt, aber auch wie eine logische Fortsetzung. Unsere Musik fließt ganz natürlich aus unseren Fingern. Wir sitzen nicht im Kreis und denken darüber nach, was wir als nächstes tun könnten - es muss spontan kommen und authentisch dem entsprechen, was zu dieser Zeit in deinem Kopf ist und deinen Vorstellungen entspricht. Jede unserer Veröffentlichungen bisher war immer mit einem bestimmten Zeitraum unseres Lebens verbunden."
Das Engineering erfolgte durch Jens Bogren in den Fascination Street Studios und das detailverliebte Coverartwork stammt aus der Feder von Zbigniew M. Bielak.
(Sarah Jacob)