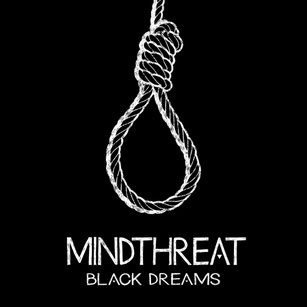 MinthreaT: Melodic Metalcore meets griechische Mythologie "Black Dreams" erscheint am 27.4.

Bei Griechenland und Metal denkt man natürlich gleich an Septicflesh und ihren mythologischen Todes- Epos. Aber es geht auch zackiger. Und eher dem Diesseits zugewandt. Die Landsmänner der Griechen, MinthreaT, führen es vor. Mit klatschiger Doublebass und Stakkato-Riffs zu dick aufgetragenen Choreinlagen. Frontmann Anton Mess shoutet, brüllt und kotzt, nur um anschließend engelsgleich zu salben. Wenn die das im Hades spielen, ist der Tod eine riesige Party. Am 27.4. Erscheint diese in Form des Debütalbums  von MinthreaT via Bleeding Nose/Soulfood Music.
Griechischer Metal mit Mythologie-Referenzen? Klar, Septicflesh. Aber es geht auch melodischer, zackiger. Mehr von dieser Welt. Das Athener Quintett MinthreaT zeigt es mit seinem Debütalbum Black Dreams. Die zehn Songs rammen sich tief in die Großhirnrinde und klicken dort unseren Like-Button. Black Dreams erscheint am 27. April bei Bleeding Nose Records.

"Auf Black Dreams thematisieren wir die Auswirkung der modernen Zivilisation auf die menschliche Natur. Wie sie unsere Persönlichkeiten zerstört", fasst Frontmann Anton Mess die Intention des Albums zusammen. Dass die Titel Bezug zur antiken Mythologie herstellen, versteht sich für eine griechische Band von selbst. Es ist ein Erbe, das genutzt werden will.

Wenn Anton Mess darum über Sleeping Giants und Half Remembered Gods brüllt, begleiten ihn nicht nur brachiale Riffs, geschleudert mit dem Zorn Zeusscher Blitze. MinthreaT entrollen ihm einen Teppich orchestraler Instrumentierung, mengen zusätzlich noch ein paar ins Ohr gehende Chöre darunter und entwickeln so einen Hymnus wie ihn Homer nicht besser hätte dichten können. "MinthreaTs größte Stärke ist der unvergessliche Refrain in jedem Track", resümiert daher Anton Mess völlig nüchtern. Hybris? Nein. Vielmehr das Ergebnis beharrlichen Feilens an den Harmonien.

Eine Ergebnis, das in dieser Forciertheit wohl nur möglich ist, weil die Band jeglichen Schritt der Produktionskette selbst verantwortet: vom Songwriting bis hin zum Mastering und weiter zum Musikvideo. Wenn dann auch noch der erste Gitarrist Schauspieler, der zweite gar Harmonielehrer und Filmemacher ist, kann bei diesem Konzept kein dilettantisches Einerlei herauskommen – sondern geschliffene Kunst. MinthreaT eben. Hier paart sich Professionalität mit jahrelanger Erfahrung.

Denn bis Black Dreams haben MinthreaT einen langen Weg zurückgelegt. Zwei erste eigenhändig produzierte und selbstverlegte EPs, Amidst your Bloodlines aus dem Gründungsjahr 2011 sowie Where the Lights are dead (2013) teilen noch dezidiert hart aus. Erst mit der 2015 ebenfalls im Selbstverlag erschienenen EP People are Tragedy sind die Griechen melodiöser geworden. Anton Mess: "Wir haben damit einen Volltreffer gelandet – unsere Fans fahren auf den neuen Stil noch als bisher mehr ab."

Und Fans hat das Fivepack sich in den vergangenen Jahren viele erarbeitet. Durch zahllose Gigs in Griechenland. Durch Supportshows für The Devil Wears Prada, Comeback Kids, Deez Nuts und Wolfheart. Durch Festival-Auftritte in Wacken, dem Rockstadt Extremefest in Rumänien und dem ukrainischen Carpathian Alliance. Nebenbei standen MinthreaT für Redbull bei MTV Griechenland vor der Kamera, hatten eine Akustik-Liveübertragung im nationalen Fernsehen sowie Interviews mit MTV Griechenland und MAD TV.
Videos:
- "Sleeping Giants": https://youtu.be/5x1NNerELu8
- "Black Dreams": https://youtu.be/Vlot_bHzdtc

Black Dreams erscheint am 27. April 2018 bei Bleeding Nose Records..