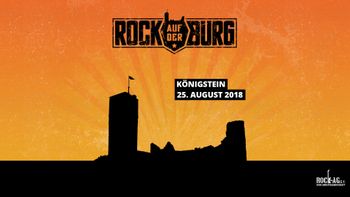 es ist soweit: das Rock auf der Burg Festival in Königstein hat die ersten beiden Headliner bestätigt.

Dieses Jahr werden hier die größte Rock Party im Taunus geschmissen!
Das Line Up verspricht Großes:
Wir freuen uns auf Kissin Dynamite und The New Roses auf der Mainstage!

Kissin' Dynamite: Sie sind purer Sex auf der Bühne, waren mit vier Alben in den Charts, touren mit den ganz Großen durch die ganze Welt und sind eine der besten deutschen Live Bands überhaupt. Dieses Jahr wird ihr Jahr und sie feiern es mit uns - bei Rock auf der Burg 2018! Die Veranstalter sind stolz euch ihren Headliner präsentieren zu dürfen: Schüttelt die Haare mit Kissin' Dynamite!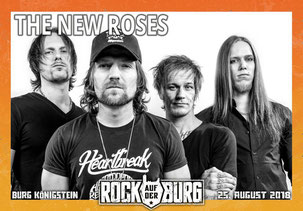 The New Roses: Sie zählen zu den spannendsten und erfolgreichsten Hard Rock Acts aus Deutschland, tourten schon mit Die Toten Hosen, ZZ Top oder Saxon, das letzte Album "One More For The Road" erreichte Top 20 in den Deutschen Charts und erst neulich haben sie den legendären WDR Rockpalast bespielt. Ihr wollt mehr Rock? The New Roses werden euch in Grund und Boden rocken!

Facts auf einem Blick:
★ 1 TAG ★ 2 BÜHNEN ★ 13 BANDS ★
Mit: Kissin Dynamite // The New Roses
+ 11 weitere Bands!

Burg Königstein
Burgweg
61462 Königstein
Doors Open: 14 Uhr
VVK: 14 Euro* // AK: 24 Euro
*zzgl. Vorverkaufsgebühr
Tickets online unter: http://rockaufderburg.de/tickets

Weitere Infos unter:
www.rockaufderburg.de
www.facebook.com/RockAufDerBurg
www.instagram.com/rockaufderburg
www.rockaufderburg.de/spotify