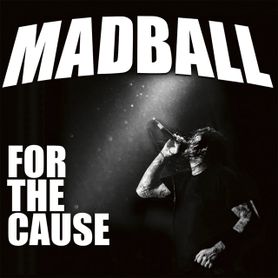 Die NYHC Könige MADBALL haben die Aufnahmen ihres kommenden Albums »For The Cause« abgeschlossen. Das Album wird am 15. Juni 2018 über Nuclear Blast erscheinen.

Das Cover Artwork findet sich am Anfang dieser Meldung:
Sänger Freddy Cricien kommentiert: "We are beyond excited to finally drop »For The Cause«!! To say we're happy  with the end result of all that we put into this, is an understatement! This record accurately defines the current state of our band...our sound, our state of mind, our ambitions, our flaws, and our attitude!

Das Album wurde vom renommierten Produzenten Tue Madsen in dessen Antfarm Studios in Dänemark gemischt und gemastert.

Als Co-Produzent fungierte Tim Armstrong (RANCID), der auch auf einem Song zu hören ist.  MADBALL Sänger Freddy Cricien kommentiert: "Tim and us go way back, he's an old friend and super talented guy... across the board! A legend in his own right. He invited us to come record with him and it all fell into place very organically. He's respected our band from day one and was excited to be a part of this. We're honored to have him on board." 

Bassist Hoya Roc states: "We got a real good album. It feels like the movie "Pulp Fiction". We've got every style of hardcore in there. It feels like we've got something special!"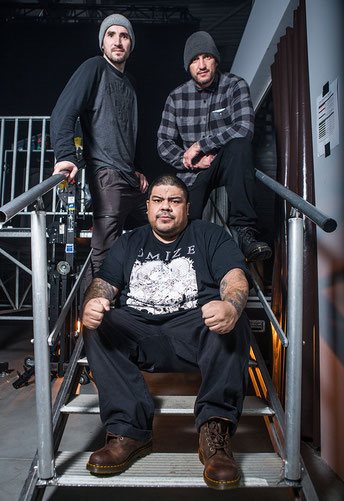 Die Band hat zudem die angekündigt, dass der legendäre Rapper/Schauspieler/Frontermann Ice-T (BODY COUNT) auf einem Song zu hören sein wird.

Ice-T kommentiert: "It's an honor to record with the legendary MADBALL. BODY COUNT draws its closest similarities to NY Hardcore. This is a natural."

Cricien fügt hinzu: "It's truly an honor to have Ice-T on our record! I grew up on his music from his early hip hop stuff till now. He's an iconic figure but also a 'class act', you don't always get both at once. Ice has a great respect for NYHC and MADBALL, means the world. This was meant to happen.... real recognizes real."

MADBALL haben kürzlich die Split 7" Vinyl Single »Family Biz« mit WISDOM OF CHAINS veröffentlicht, auf der eine frühe Versions des Titeltracks des kommenden Albums enthalten ist.

Frontmann Freddy Cricien über den Track: "It's about staying the course and fighting for what you love and are passionate about.  It's a theme that you'll hear a lot throughout our next album. Utilizing negativity and the obstacles you face as inspiration. 'Say I can't, say I won't again... Give me the fuel that I need to ascend!"  

MADBALL summer tour 2018
15.06.2018 - D - Ferropolis, With Full Force
17.06.2018 - CZ - Prag, Palác Akropolis (w/ HATEBREED)
19.06.2018 - D - Düsseldorf, Stone im Ratinger Hof
20.06.2018 - NL - Rotterdam, Baroeg
21.06.2018 - B - Dessel, Graspop Metal Meeting
23.06.2018 - F - Clisson, Hellfest
30.06.2018 - E - Madrid, Download Festival
07.07.2018 - DK - Roskilde, Roskilde Festival
12.07.2018 - H - Dunaújváros, Rock Maraton
13.07.2018 - SRB - Novi Sad, Exit Festival
14.07.2018 - HR - Pula, Uljanik
15.07.2018 - I - Cordenons, Rock Town
03.08.2018 - D - Rostock, M.A.U. Club
04.08.2018 - D - Wacken, Wacken Open Air
05.08.2018 - D - Weinheim, Café Central
06.08.2018 - D - Lindau, Club Vaudeville
11.08.2018 - CZ - Brno, Urban Rock
24.08.2018 - NL - Deventer, Burgerweeshuis
25.08.2018 - D - Sulingen, Reload Festival
26.08.2018 - D - Nürnberg, Z-Bau
27.08.2018 - A - Wien, Arena
28.08.2018 - SK - Kosice, Collosseum
29.08.2018 - PL - Warsaw, Proxima
30.08.2018 - D - Niedergörsdorf, Spirit Festival
31.08.2018 - D - Obererbach, Pell-Mell Festival

www.facebook.com/madballnyc