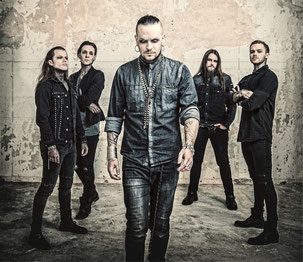 Die Hamburger LORD OF THE LOST werden am 03.08.2018 ihr sechstes Studioalbum namens THORNSTAR veröffentlichen! Im Oktober folgt eine Europatournee!
Weit über viele Genre-Grenzen hinaus gefeiert, zeigen sich LORD OF THE LOST 2018 bereit für den ganz großen Sprung. Ob moderner Metal, Industrial-Elemente oder Dark-Rock: Die Band um Chris Harms kann alles! Immer noch – nur sind sie dieser Tage überzeugender denn je.
Waren die Vorgängeralben bereits prominent in den oberen Regionen der deutschen Albumcharts vertreten, wird das neue Werk THORNSTAR dem in nichts nachstehen: Das sechste Studioalbum der Hamburger gönnt sich bei gewohnter Eingängigkeit und druckvoller Härte den Luxus von unberechenbarem und bisher ungeahntem Facettenreichtum, sowie einer klanglich und emotional bisher nicht da gewesenen Tiefe.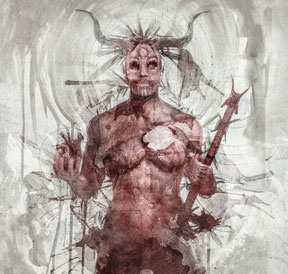 Dieses Konzeptalbum über den Mythos einer untergegangenen Hochkultur ist mehr als einzigartig - keine Frage.
Chris Harms über das Konzept-Album THORNSTAR:
"Die Vision von THORNSTAR war von Anfang an groß und das Konzept brachte viel Verantwortung mit sich. Wir wussten zwar, was auf uns zukommt, aber das Gesamtkunstwerk, das daraus letztendlich entstanden ist, hat es geschafft, am Ende selbst uns zu überraschen!"
Tracklisting:
CD1
01. On This Rock I Will Build My Church
02. Loreley
03. Black Halo
04. In Our Hands
05. Morgana
06. Haythor
07. Naxxar
08. Cut Me Out
09. The Mortarian
10. Under The Sun
11. In Darkness, In Light
12. Forevermore
13. Ruins
CD2
01. Abracadabra (feat. Dero Goi)
02. Voodoo Doll
03. The Art Of Love
04. Lily Of The Vale
05. Penta
06. Free Radicals
07. Live Pray Die Repeat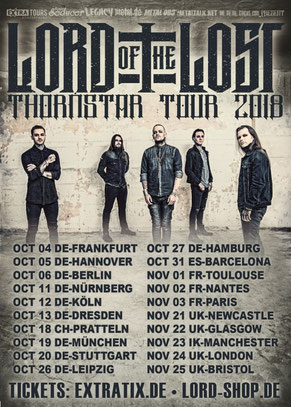 04.10.2018 - D - Frankfurt, Batschkapp
05.10.2018 - D - Hannover, Musikzentrum
06.10.2018 - D - Berlin, Columbia Theater
11.10.2018 - D - Nürnberg, Hirsch
12.10.2018 - D - Köln, Essigfabrik
13.10.2018 - D - Dresden, Alter Schlachthof
18.10.2018 - CH - Pratteln, Z7
19.10.2018 - D - München, Backstage
20.10.2018 - D - Stuttgart, Im Wizemann
26.10.2018 - D - Leipzig, Werk 2
27.10.2018 - D - Hamburg, Markthalle
31.10.2018 - E - Barcelona, Salamandra 1
01.11.2018 - F - Toulouse, Rex
02.11.2018 - F - Nantes, Ferrailleur
03.11.2018 - F - Paris, Boule Noire
21.11.2018 - UK - Newcastle Upon Tyne, The Cluny
22.11.2018 - UK - Glasgow, Ivory Blacks
23.11.2018 - UK - Manchester, The Ruby Lounge
24.11.2018 - UK - London, Electrowerkz
25.11.2018 - UK - Bristol, The Fleece Bristol