Die kühlen Temperaturen sind zwar noch nicht ganz vorüber, dennoch lohnt es sich, jetzt schon ein paar Gedanken an Begriffe wie "Open Air", "Sonnenschein" und "Heavy Metal" zu verschwenden. Das Rock Hard Festival, bekanntlich immer das erste bedeutende Freiluft-Festival der harten Klänge, wirft seine Schatten voraus. Kein Wunder, dass der Vorverkauf bereits auf Hochtouren läuft...
»"Hits, Hits, Hits." Wir haben die Kritik verstanden. Obwohl das Programm 2017 erstklassig besetzt war, möchten viele Fans zum Abschluss Musik zum Abfeiern. Das können wir sehr gut verstehen, auch wenn uns beim Buchen der Bands natürlich terminliche und finanzielle Grenzen gesetzt sind. Aber wir bemühen uns stets, die Wünsche unserer Stammbesucher zu erfüllen«, leitet Rock-Hard-Herausgeber Holger Stratmann die Bekanntgabe der Bestätigungen ein. Von der britischen Metal-Legende SAXON darf man Hits sogar am Fließband erwarten, zumal mit "Thunderbolt" gerade ein neues Album erschienen ist. Auch die New-Jersey-Boys OVERKILL sind erklärte Fan-Favoriten und gern gesehene Gäste im Pott. Vor einem Jahr spielten die US-Thrasher eine exklusive Show mit dem Programm der Alben "Feel The Fire" und "Horrorscope" in Oberhausen. Diese Aufzeichnung wird parallel zum Auftritt per DVD weltweit veröffentlicht, und die passende Feier findet natürlich auf dem Rock Hard Festival statt – wo sonst? SODOM haben sich neu formiert, um ihre Gassenhauer erstmals als Quartett aufzupolieren. Premiere und Heimspiel auf dem RHF! Wobei man sich fragen muss, ob das Stimmungsbarometer bei AXEL RUDI PELL nicht noch höher ausschlagen wird. Das "Scorpions Revisited"-Programm des Gitarrengotts ULI JON ROTH kann man zweifelsfrei als Best-of der spannenden siebziger Jahre der Hannoveraner Hardrock-Giganten bezeichnen. Und die Briten DIAMOND HEAD komponierten mit dem von Metallica in die Welt getragenen ́Am I Evil? ́ einen der größten Songs der Metal-Geschichte.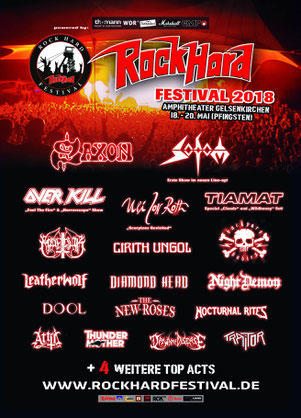 ARMORED SAINT (mit Kult-Sänger John Bush und einem Schwerpunkt auf ihrem besten Album "Symbol Of Salvation") und die Schweizer Thrash-Avantgardisten CORONER sind in diesem Open-Air-Sommer in Deutschland nur auf dem RHF zu erleben. TIAMAT waren in den Neunzigern mit einer innovativen Mischung aus Black-, Goth- und Psychedelic Metal Vorreiter und sind zum ersten Mal seit (gefühlten) Ewigkeiten wieder live im Ruhrpott zu erleben. Etwas später haben die BACKYARD BABIES um Szene-Ikone Dregen das Retro-Rock ́n ́Roll-Fieber in Schweden entzündet. Wer es viel schwärzer mag, kommt bei MARDUK auf seine Kosten, während die Bolt-Thrower-Nachfolger MEMORIAM ein Highlight für Todesblei-Metaller sind.
Wenn man von aktuellen Nachwuchsstars spricht, kommt man um den Kalifornier Jarvis Leatherby nicht herum. Seine Band NIGHT DEMON spielte sich 2017 als Opener des Rock Hard Festivals und auf einer weltweiten Accept-Tournee in die Herzen der Fans. Außerdem hilft der Musiker der US-Metal-Legende CIRITH UNGOL auf die Beine, die in europäischen Insider-Kreisen Kultstatus genießt. Die "Triple Axe Attack" von LEATHERWOLF war auf dieser Seite des Atlantiks noch seltener zu sehen. Die Niederländer DOOL gehören seit ihrem Debüt "Here Now, There Then" zu den heißesten Newcomern Europas. THE NEW ROSES sind die zurzeit emsigste Hardrock-Band Deutschlands und ein Garant für gute Laune auf und vor der Bühne, während ATTIC bei ihrem Gelsenkirchener Heimspiel ihr famoses  "Sanctimonious"-Album vorstellen werden. Die Jungspunde TRAITOR und DAWN OF DISEASE werden sich ebenso wenig unterbuttern lassen.
Wie immer also ein handverlesenes, originelles Programm der Rock-Hard-Redaktion mit exklusiven Auftritten und den heißesten Themen der Szene!
Nur 7.500 Karten werden für das mit Sicherheit bis auf den letzten Platz gefüllte Amphitheater verkauft, das mit seinen aufsteigenden Rängen für die perfekte Sicht aufs Bühnengeschehen sorgt. »Das vergleichsweise intime Ambiente ist nach wie vor der größte Pluspunkt der Veranstaltung«, betonen die Rock-Hard-Macher einmal mehr den stets familiären Charakter des Festivals, bei dem sich die Musiker gerne unter das Publikum mischen und die Fans mit Sprechchören die Security (!) feiern. Eine Händler-Meile, Gitarren-Equipment zum Ausprobieren, ein Biergarten mit DJ, Flipperautomaten und eine Nacht-Disco im neuen Design runden das Programm ab. Die Erlöse aus den Pfandsammelaktionen gehen - wie in den Jahren zuvor - gemeinnützigen Organisationen zu.
Die 3-Tages-Tickets kosten 86,90 Euro inklusive aller Gebühren (Ticket + Camping: 108,40 Euro).
Ticketlink: https://shop.rockhard.de/rock-hard/rock-hard-festival.html
Aktuelle Informationen, Videos und Interviews der beteiligten Bands sowie Impressionen vom Gelände findet man auf den Festival-Pages:
Freitag (18. Mai)
15:00-15:40 Dawn Of Disease
16:00-16:40 Attic
17:05-17:50 Dool
18:15-19:15 Diamond Head
19:45-21:00 Tiamat
21:30-23:00 Sodom
Samstag (19. Mai)
12:30-13:10 Traitor
13:30-14:10 Nocturnal Rites
14:30-15:15 The New Roses
15:40-16:35 Leatherwolf
17:00-17:55 Cirith Ungol
18:20-19:15 Marduk
19:45-21:00 Axel Rudi Pell
21:30-23:00 Overkill
Sonntag (20. Mai)
12:00-12:40 Thundermother
13:00-13:45 Memoriam
14:10-14:55 Night Demon
15:20-16:20 Uli Jon Roth
16:45-17:45 Coroner
18:10-19:15 Backyard Babies
19:45-21:00 Armored Saint
21:30-23:00 Saxon