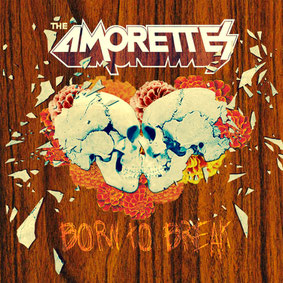 VÖ: 06.04.2018
Label: SPV/Steamhammer
Format: CD
Tracklist:
01. Can You Feel The Fire 4:40
02. Hello And Goodbye 3:49
03. Evrything I Learned I Learned From Rock And Roll 4:03
04. Born To Break 3:46
05. What Ever Gets You Through The Night 4:03
06. Hell Or High Water 4:12
07. You Still Got Rock And Roll 3:57
08. Easy Tiger 3:22
09. Bat Shit Crazy 4:00
10. Coming Up The Middle 3:41
11. High On Your Energy 3:39
12. I Want It Bad 4:24
Frauenpower mit starken Rock
Zuerst möchte ich nochmal betonen, dass Frauengesang ja grundsätzlich nicht unbedingt zu meiner Lieblingsmusik gehört. Es gibt aber doch immer mal wieder das ein oder andere Sahnehäubchen, das es dann doch schafft, dass ich nicht gelangweilt weghöre.
THE AMORETTES, zum Beispiel, sind nicht nur drei sehr sympathische Frauen, sondern auch sehr gute Musikerinnen.
In Kürze erscheint ihr neues Album "Born To Break" bei SPV/Steamhammer, und auf diese Scheibe können die Schottinnen sehr stolz sein. Von Anfang bis Ende kommt man hier in den Genuss von zwölf richtig starken Rock Songs, die nicht nur von der kraftvollen Stimme von Sängerin Gill Montgomerey leben, oder dem sehr rhytmischen und eingängigen Bassspiel von Heather McKay, sondern auch von, oder vorallem durch das herausragende Drumkunstwerk von Hannah McKay, der momentan kaum eine Schlagzeugerin das Wasser reichen kann.
Wer die Band schon mal live erleben durfte, der weiß mit was für einem Engagement und einer Leidenschaft das Trio seine Songs präsentiert. Und eben genau dieses Erlebnis spürt man auch beim Hören von "Born To Break". Ständig hat man das Gefühl, die Band würde jeden Moment aus der CD springen und die Wände zum wackeln bringen, als würde es kein Morgen geben.
Der einzige Vergleich, den ich mir an musikalischer Qualität zu ziehen traue, wäre zum schwedischen Quartet von Sahara Hotnights, die dem ein oder anderen vielleicht auch bekannt sein dürfte.
Neues Label, neues Album.... was fehlt? Richtig! Tourdates! Sobald THE AMORETTES wieder in europäischen Clubs oder Festivals die Bühnen unsicher machen, solltet ihr euch die Konzerte nicht entgehen lassen. Wir halten euch dazu auf dem Laufenden. Bis dahin kauft euch das Album und rockt zu den hammer Songs ab!
(Sarah Jacob)