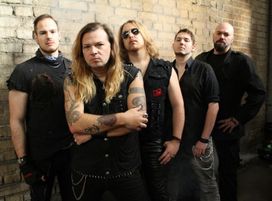 Nach gerade einmal einem Jahr legen die schwäbischen Heavy Rocker SPITEFUEL den Nachfolger zum viel gelobten und überaus erfolgreichen Debüt "Second To None" nach, der es in sich hat!

Am 27. April erscheint nun mit "Dreamworld Collapse" der Zweitling – ein reinrassiges Konzeptalbum im Geiste der großen Meisterwerke der Rock- und Metal-Musik.
Die rasante wie epische Science-Fiction- Story, die aus der Feder des Sängers Stefan Zörner stammt, erzählt von Freiheit, Mut und Rebellion vor dem Hintergrund einer dystopischen Zukunftsvision.
Musikalisch kongenial umgesetzt und sowohl mit der nötigen orchestralen Dramatik ("Dreamworld Collapse Suite", "Brilliant White Lies", "Grave New World") als auch mit der metallischen Härte und Power des Vorgängers ("Brick By Brick", "The Secret", "Iconic Failure") ausgestattet, übertreffen sich SpiteFuel selbst und schießen ein wahres Feuerwerk der Emotionen und Musikalität ab. Die Longtracks "Brilliant White Lies" und "Dreamworld Collapse Suite" bewegen sich auf schwindelerregendem Niveau, sind im besten Sinne progressiv und melodisch, und verleiten den Hörer dazu, die Augen zu schließen und sich ganz in das Konzept fallen zu lassen. Dazu tragen auch die Gastbeiträge (Female Vocals, Querflöte, Orchestrierungen und klassisches Piano) bei, die sich organisch und nahtlos in den druckvollen, transparenten Sound des Albums integrieren.
Tracks wie "Under Fire" beschwören gekonnt den Heavy-Metal-Spirit der goldenen Ära und befriedigen jeden, der auch schon zu "Second To None" am Rocken und Headbangen war. Die filigrane, bis ins kleinste Detail ausgearbeitet Gitarrenarbeit, die packenden Soli, das treibende, facettenreiche Drumming und der pumpende Bass zeugen dabei von einer durch etliche Festivals und Shows geschmiedeten Einheit, die stärker und eingespielter denn je agiert.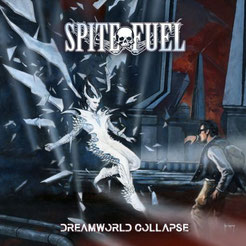 Hier die epische Tracklist:
01. Prologue: 8389 A.D.
02. Brick By Brick
03. The Secret
04. Ouverture: Inside The Sphere
05. Dreamworld Collapse, Pt. I
06. Interlude: The Funeral Of Youth
07. Dreamworld Collapse, Pt. II
08. Iconic Failure
09. Under Fire
10. Brilliant White Lies
      Pt. I: What we've Chosen
      Pt. II: The Raging Quiet
      Pt. III: Deconstructing a Falling Star
11. Grave New World
      Pt. I: They Shall Have Stars
      Pt. II: Dreamworld Revisited
12. Epilogue: 8427 A.D.
"Dreamworld Collapse" wurde wie schon der Vorgänger im Gernhart Studio (Destruction, Tankard, SuidAkrA) in Troisdorf von Martin Buchwalter produziert und gemischt. Durch Hinzunahme des zweiten Produzenten, Filmmusikkomponisten und Vollblutmusikers Michael Fiedler und dessen Studios (Traumwerkstatt Mühlacker) wurde die orchestrale, konzeptionelle Seite des Albums kompromisslos umgesetzt und verewigt. Für das Cover-Artwork konnte Kris Verwimp (u.a. SuidAkrA, Immortal, Arch Enemy) verpflichtet werden, der eigens für das Konzept eine Schlüsselszene der Story verewigte. SpiteFuel werden mit "Dreamworld Collapse" den hohen Erwartungen gerecht und zementieren scheinbar spielerisch leicht den Ruf, einer der heißesten Acts Deutschlands zu sein.
Weitere Informationen:
www.facebook.com/Spitefuel