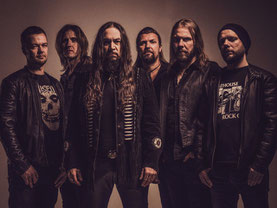 Die Melancholic Progressive Metaller AMORPHIS haben endlich die Aufnahmen für ihr neues Album beendet, das unter dem Titel »Queen Of Time« am 18. Mai via Nuclear Blast veröffentlicht wird! Im Vergleich zu seinem Vorgänger »Under The Red Cloud« (2015) werden auf der neuen Platte nicht nur richtige Streicher und Flöten auftauchen - komplexe Orchesterarrangements und Chorparts verleihen dem Sound zudem seinen letzten Schliff!
Auch wird AMORPHIS' Texter Pekka Kainulainen das erste mal auf einem Album zu hören sein, denn es beinhaltet eine finnische Rede von Pekka.
Heute enthüllt die Band weitere Details zur Produktion, dem Albumtitel, dem Albumcover (s. ganz oben in dieser Nachricht) und über die Zusammenarbeit mit ihrem neuen/alten Bassisten Olli-Pekka Laine.

Produzent der Platte ist, wie auch schon bei seinem Vorgänger, wieder einmal Jens Bogren (OPETH, AMON AMARTH, KREATOR, u.v.m.), der bekannt dafür ist die Künstler während des Aufnahmeprozesses immer wieder herauszufordern und zu motivieren - und dabei auch nicht zurück zu schrecken, sie bis an ihre Grenzen gehen zu lassen!

Esa kommentiert: "Ich denke, dass »Queen Of Time« sich für uns alle zu einer großen Überraschung herauskristallisiert hat. Während der Proben und der Vorproduktion hatten wir keine Ahnung, welch gigantisches Bild zur Soundkulisse Jens in seinem Kopf hatte. Es ist eine sehr natürliche Fortsetzung zu »Under The Red Cloud«, aber mit Steroiden. Die Songs sind aggressiver, dynamischer, harmonischer und mit mehr Orchesterarrangements. Das Ergebnis ist AMORPHIS in einer Form, wie man uns noch nie zuvor gehört hat! Zusammenfassend kann man sagen, dass die Arbeit mit Jens rundum gut gelaufen ist. Als Mensch ist er uns sehr ähnlich - wir teilen denselben komischen Humor und wir arbeiten alle gerne hart."

Das Cover-Artwork, das erneut vom französischen Künstler Jean "Valnoir" Simoulin von Metastazis entworfen wurde, fängt das Gefühl der Texte und der Musik ein. Mit Pekka Kainulainens (Texter) Worten ist das lyrische Thema universell: "Kulturen erheben sich, gedeihen und werden zerstört. Die Geschichte des Menschen ist die Geschichte des Suchens, Findens und Vergessens. Ein einziger Funke kann die Welt in Brand stecken, eine einzelne Idee kann eine neue Kultur entstehen lassen. Die Größten können in Bedeutungslosigkeit versinken, die Kleinsten können die Kraft für Veränderung halten. Die Texte auf diesem Album sind entfernte Echos uralter Waldvölker aus einer Zeit, in der die Bedeutung durch die kosmischen Kräfte bestimmt wurde, die Geburt und Tod regieren. Wenn die Verbindung verloren ging, suchten sie nach einer Wissensquelle, fanden eine neue Richtung, und ein neues Zeitalter begann."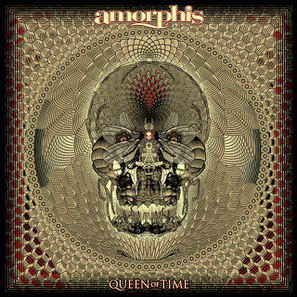 »Queen Of Time« wird das erste Album mit ihrem alten/neuen Bassisten Olli-Pekka 'Oppu' Laine sein, der nach dem Austritt von Basser Niclas Etelävuori (in 2017) zur Band zurückkehrte. Oppu war einer der Gründungsmitglieder von AMORPHIS (1990) und nahm die Frühwerke (»The Karelian Isthmus« LP, 1992; »Privilege Of Evil« EP, 1993; »Tales From The Thousand Lakes« LP, 1994; »Black Winter Day« EP, 1995; »Elegy« LP, 1996; »My Kantele« EP, 1997 sowie die »Tuonela« LP, 1999) mit der Band auf, bevor er im Frühling 2000 die Band verließ.

"Um ehrlich zu sein war Oppu der einzige Nachfolger für Niclas, den wir uns für AMORPHIS vorstellen konnten. Es war lustig - als wir letzten Sommer die ersten Shows zusammen spielten, fühlte es sich wie gestern und sehr vertraut an. Oppu war bei der Arrangierung unserer Songs beteiligt und brachte auch schon einige Songs auf den Tisch - und zwar zeimlich gute!", sagt Esa. Und Oppu fügt hinzu: "Obwohl das letzte Jahr mit AMORPHIS sehr aufregend, nostalgisch und lustig war, war es auch wirklich angenehm, wieder mit den Jungs zusammen zu sein. Als Klischee-Ausdruck könnte man sagen, es war wie nach einer langen Odyssee. Nach achtzehn Jahren fühlt es sich an, als würden wir da weiter machen, wo wir in den guten alten Tagen aufgehört hatten! Ich freue mich sehr auf die bevorstehende Tour. Das neue Album ist wirklich ein starkes Paket und die einzige harte Herausforderung wird die Entscheidung sein, welche Songs wir davon live spielen! Wir können mit Sicherheit sagen, dass wir einige Killer-Shows für die nächsten Jahre in Petto haben. Danach prognostiziere ich eine lange und fruchtbare Karriere für die Band in ihrer jetzigen Form..."

AMORPHIS werden schon bald den Vorverkauf für »Queen Of Time« starten und ihre erste Single veröffentlichen - bleibt also dran, um keine weiteren Infos zu verpassen!
Weitere Infos:
www.amorphis.net
www.facebook.de/amorphis
www.nuclearblast.de/amorphis