Es gibt ganz normale Heavy Metal Festivals – und es gibt die 70000TONS OF METAL. Stell es dir einfach mal so vor: Du bist gerade von einer bildschönen Insel mitten im Atlantik zurückgekehrt, wo du stundenlang die Sonne und den weißen Sand eines wundervollen karibischen Strandes genießen konntest.
Mit einer milden Brise im Gesicht sitzt du nun im Whirlpool eines riesigen Kreuzfahrtschiffes, direkt vor einer großen Bühne, und feierst headbangend deine Lieblingsband ab. Du schaust von einem der sechs Whirlpools mit direkter Sicht auf die Bühne des Pooldecks – zu Gast an der größten Open-Air-Bühne aller Ozeane des Planeten. Es ist laut. Metalheads aus allen Teilen der Welt sind hier zusammengekommen. Klingt perfekt? Tja, ist es auch!
...Ziemlich genau zwei Wochen ist es nun her, dass die meisten Fans von einer sehr erfolgreichen 70000TONS OF METAL 2018 zurückgekehrt sind – der 8. Auflage des Festivals auf See. Einige mehr von ihnen leiden immer noch an den Folgen der "PCD (post cruise depression)" infolge von vier unvergesslichen Tagen auf der "Independence Of The Seas". Mehr als 3000 Metalheads und 61 Bands bemannten das Schiff, wobei jeder Interpret zwei Gigs hinlegte (124 Shows auf insgesamt 4 Bühnen), während des einzigartigen Spektakels auf hoher See. Manche Fans verbrachten ihren Landgang auf Turks und Caicos mit ihren liebsten Bands im Rahmen einer der zahlreichen von Künstlern geführten Touren. Stell dir einmal vor, du schwimmst mit MESHUGGAH in atemberaubender Kulisse mit Rochen, oder schnorchelst sicher mit ABORTED und EXHUMED an deiner Seite. Es gibt Wölfe auf einer Safari? Na klar, springe von Küste zu Küste mit WOLFCHANT.
Dazu gab es noch einen All-Star-Auftritt "Jamming With Waters in International Waters", den, neben Annihilator-Mastermind Jeff Waters als Host, Mitglieder von Kreator, Sabaton, Cannibal Corpse, Destruction, Sonata Arctica, Meshuggah, Enslaved, Primal Fear, Dark Tranquility, Voivod, Seven Spires und viele mehr hinlegten. Mit Klassikern der Heavy-Metal und Hard-Rock-Szene im Repertoire brachten sie gemeinsam die Bühne zum Beben.
Außerdem gab es einen Rekord, der bei der 70000TONS OF METAL gebrochen wurde. Die Spitze von 74 verschiedenen Nationen aus 2017 wurde 2018 durch eine weitere Nation übertrumpft. So beweist 70000TONS OF METAL einmal mehr, dass sie die internationalste aller Kreuzfahrten ist, indem sie nunmehr 75 Nationen vereint. Deutschland, USA und Kanada stehen hier unter den Top 5 der am meisten vertretenen Länder der Fahrt. Und auch demografische Spitzfindigkeiten machen hier richtig was her: Der jüngste Matrose war ein Jahr alt und die älteste Matrosin wurde während der Cruise 79.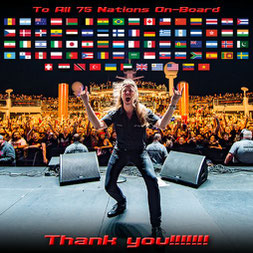 Also macht euch gefasst, ihr Matrosen und Landratten: Nach der Cruise ist vor der Cruise. Ihr könnt euch schon auf die 9. Auflage der 70000TONS OF METAL Kreuzfahrt freuen. Das Original, die weltgrößte Heavy Metal Kreuzfahrt, diesmal von Miami/Ft. Lauderdale nach Labadee, Haiti, und zurück, sticht vom 31. Januar – 4. Februar 2019 in See.