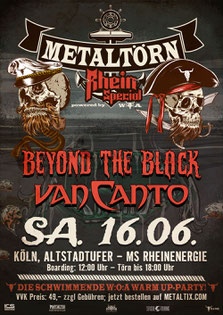 METALTÖRN MITTEN AUF DEM RHEIN: SO STEIGT DIE VORFREUDE AUFS WACKEN OPEN AIR!

Im Sommer mitten auf dem Rhein schippern, das ein oder andere alkoholische Getränk zu sich nehmen und dabei allerfeinsten Metal von Beyond The Black und Van Canto live genießen. Am Samstag, dem 16. Juni 2018, feiert der sonst in der Ostsee beheimatete Metaltörn seine Premiere auf dem Rhein und steigert so die Vorfreude aufs Wacken Open Air, das am ersten August-Wochenende stattfindet. Der Vorverkauf für den Metaltörn auf dem Rhein startet jetzt!
"Eine Seefahrt, die ist lustig, eine Seefahrt, die ist schön …", das weiß schon jedes Kind! Jetzt gibt's die Erwachsenen-Version mitten im Sommer, mitten auf dem Rhein! Am 16. Juni geht die Reise der "MS Rheinenergie" in Köln los – das Schiff hat Platz für ungefähr 1000 Metalheads! Mit ihnen werden die Symphonic-Metal-Senkrechtstarter Beyond The Black an Bord gehen. Mittlerweile spielt die Band um Frontfrau Jennifer Haben auf allen namhaften Metalfestivals der Welt – wie dem Wacken Open Air, dem Download-Festival oder dem Graspop Metal Meeting – und supportete schon Größen wie Powerwolf und Epica, Saxon und Korn oder Within Temptation und die Scorpions. Band Nummer zwei an Bord werden die A-cappella-Helden des Metal Van Canto sein. Diese Band braucht als Instrument nur das Schlagzeug – den Rest macht sie mit ihren sieben großartigen Stimmen. Ihre Mischung aus Eigenkompositionen und Covern von Metal-Klassikern reißt jeden mit!
Boarding für den Metaltörn auf der "MS Rheinenergie" ist am 16. Juni 2018 um 12 Uhr am Kölner Altstadtufer (KD-Landebrücke Köln Altstadt 01). Die Abfahrt ist pünktlich um 13 Uhr. Der Törn geht vier Stunden über den Rhein – um 17 Uhr legt das Schiff wieder am Ausgangsort an. Die Tickets gibt es ab jetzt! Sie kosten 49 Euro zuzüglich Vorverkaufsgebühren) und sind erhältlich bei www.metaltix.com, unter der Hotline 04827 999 666 66 und bei www.eventim.de. Bei www.metalschiff.de gibt es außerdem Tickets inklusive Hotelzimmer in verschiedensten Kategorien. Weitere Informationen sowie aktuelle Hinweise gibt es unter www.facebook.com/metaltoernhh/.
Metaltörn auf dem Rhein – Wacken-Warm-up
16. Juni 2018 – MS Rheinenergie – Köln, Altstadtufe
Tickets für 49 Euro (zuzüglich Vorverkaufsgebühren)