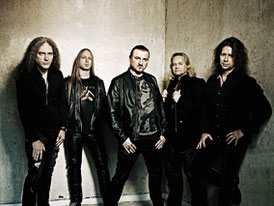 Lünen – Eine der etabliertesten deutschen Rockbands meldet sich in diesem Jahr monströs zurück: die Nordrhein Westphalen von AXXIS gehen in der zweiten Jahreshälfte auf "Monster Hero"-Tour. Noch vor Tourstart wird das ebenso betitelte neue Studioalbum "Monster Hero" erscheinen.
Derzeit befindet sich die Band im Studio, um den Songs des Albums ihren Feinschliff zu verpassen. Wie für AXXIS typisch, stehen auch dieses Mal wieder Zeitgeist und der typische Axxis-Charakter eng zusammen. Das Album beschäftigt sich mit unserer Gesellschaft und ihrem Drang, alles immer noch größer, besser und hochdimensionierter haben zu wollen und wendet sich dabei auch kritisch an aktuell regierende Machtführer, dem aufkommenden Zeitalter des Populismus und der Fake News.
"Wir leben in einer Welt voller Superlative – egal ob in der Werbung, in Wahlversprechungen oder sonst wo, alles muss "monstergroß" oder besonders heldenhaft sein", so die Musiker. "Dabei gibt es auch einige Staatsführer, die in ihrem Streben mehr "Monster" als "Hero" sind und bei denen die beiden Begriffe eine gefährliche Symbiose eingehen."
Sie sind eine der deutschen Rockbands, die Geschichte geschrieben haben und es immer noch tun: Vor 29 Jahren kam ihr Erfolgsalbum "Kingdom Of The Night" auf den Markt, das bis heute zu den wichtigsten nationalen Rock-Alben zählt – fast drei Jahrzehnte später feiern AXXIS immer noch Erfolge – Chartentries in die Top 30 mit ihren letzten Alben, etliche ausverkaufte Shows und ein Kulturpreis der Stadt Lünen für Sänger Bernhard Weiß sind die aktuellsten Auszeichnungen.
In wenigen Monaten wird es im wahrsten Sinne des Wortes "Monster Hero"-mäßig weitergehen.
AXXIS - "MONSTER HERO" TOUR 2018
29.09.2018 - D - Lünen, Heinz-Hilpert Theater (AXXIS Rock Revue)
25.10.2018 - D - Wuppertal, Haus der Jugend
26.10.2018 - D - Burgrieden, Riffelhof
27.10.2018 - D - Heidenheim a.d.Brenz, Lokschuppen
01.11.2018 - D - Frankfurt a.Main, Nachtleben
02.11.2018 - D - Soest, Alter Schlachthof
03.11.2018 - D - Bremen, Meisenfrei
04.11.2018 - D - Hamburg, Logo
08.11.2018 - D - Mannheim, MS Connexion Complex
09.11.2018 - D - Pirmasens, Quasimodo
10.11.2018 - D - Burglengenfeld, VAZ
11.11.2018 - D - Augsburg, Spectrum
15.11.2018 - D - Nürnberg, Hirsch
16.11.2018 - D - München, Strom
17.11.2018 - CH - Aarburg, Musigburg
Band: www.axxis.de