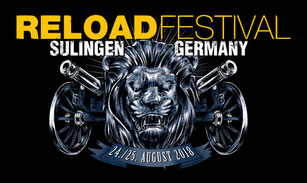 Mit einem Paukenschlag eröffnet das Reload Festival in Niedersachsen sein Jahr 2018, denn die US-amerikanischen Rock-Megastars Papa Roach sind frisch bestätigt. Doch damit nicht genug: Sechs weitere Bands bereichern im August das Programm des Open Airs, darunter sind Gitarrenvirtuosen, Piraten und eine Band, die sich von ihren Fans verabschiedet.
Sulingen, 24. Januar 2018 – "Ich freue mich wahnsinnig, dass Papa Roach uns wieder in Sulingen besuchen. Das ist so ein bisschen Wunscherfüllung, da ich persönlich jedes Mal begeistert bin, wenn ich sie live sehe", sagt ein strahlender André Jürgens, Geschäftsführer des Reload Festivals. Tatsächlich gehören Papa Roach um Sänger Jacoby Shaddix mit Hits wie "Last Resort" seit 2000 zu den festen Größen im Rock-Business.
Auch die weiteren Neubestätigungen haben es in sich: Dragonforce sind bekannt für rasante Power Metal-Hymnen, ihr Song "Through The Fire And Flames" zählt zu den allerschwersten im Video-Spiel "Guitar Hero". Fans rabiater Hardcore-Klänge werden sich über Deez Nuts aus Australien freuen und über A Traitor Like Judas, die erst kürzlich ihre bevorstehende Auflösung bekanntgaben, und eine ihrer letzten Festival-Shows auf dem Reload 2018 spielen werden.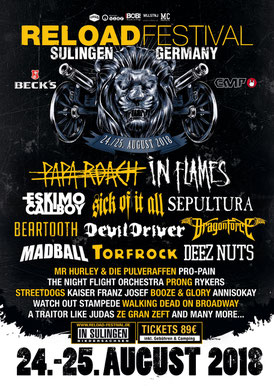 Weniger hart geht es bei den Schweden The Night Flight Orchestra um Soilwork-Sänger Björn Strid, einem der Geheimtipps der Szene, die Hard Rock à la Foreigner oder Toto spielen, und Mr. Hurley & Die Pulveraffen zu. Letztere versetzen mit ihrem Seemannsgarn regelmäßig die ganz großen Metal-Festivals in Ekstase. Zu guter Letzt gibt es auch etwas für Punkrock-Fans: Streetdogs aus Boston mit dem ehemaligen Dropkick Murphys-Sänger Mike McColgan am Mikrofon bitten mit Nachdruck zum Pogotanz.

Kombitickets für das Reload Festival 2018 (24. – 25.08.) mit Papa Roach, In Flames, Eskimo Callboy, Sick Of It All und vielen mehr sind für 89 € (inkl. Gebühren und Camping) bei Eventim und Metaltix erhältlich. Weitere Informationen auf www.reload-festival.de