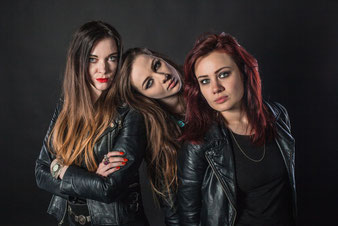 - Neues Album "Born To Break" erscheint am 06.04.2018 -
Während die heutige Musikszene anscheinend immer häufiger nach der Formel "Stil ist wichtiger als Substanz" verfährt, verfolgt das schottische Hardrock-Trio The Amorettes einen ganz einfachen Plan: die Welt erobern, und zwar eine Show nach der anderen!
Keine Mätzchen! Kein Schickschnack! Einfach nur guter, klassischer Hardrock mit großartigen Songs.
Jeder, der schon einmal in eine Liveshow der Amorettes geraten ist, kennt die prickelnde Vorfreude, wenn das Licht ausgeht und das Intro startet. Nie zuvor war das Slade-Motto "We´ll bring the house down" dermaßen programmatisch gemeint wie hier. Der Lärm der Zuschauer steigert die Erwartungshaltung vom ersten Ton an und lässt die Energie und Intensität der Band bis zum gemeinsam erreichten Showfinale nie abebben. Man wird Zeuge eines kollektiven Singalongs der schweißtriefenden Fans beim hymnischen Konzertende ´Hot And Heavy`, ein Stück, das Sängerin Gill Montgomery stets mit den Worten ankündigt: "Is everybody hot? Do you like it HEAVYYY?"
Dennoch dreht es sich bei den Amorettes nicht allein nur um Gill Montgomery. Schlagzeugerin Hannah McKay, die als eine der besten jungen Drummerinnen der heutigen Musikszene gilt, nutzt ihr komplettes Set, um jedem im Publikum den K.O.-Schlag zu versetzen. Egal wie sehr man sich bemüht, vor dieser Schlagzeugerin gibt es kein Entrinnen. Gleiches gilt für die auf der Bühne herrlich anzuschauende Bassistin Heather McKay, die ihre massiven Rockrhythmen aus der Hüfte feuert, dabei wie eine Tigerin herumstreift und im hellen Scheinwerferlicht ihren Kopf mit wehender Mähne pausenlos schüttelt. Mit der wohl tightesten Rhythmusgruppe der Gegenwart im Rücken kann Montgomery ihre kraftvolle Stimme perfekt einsetzen und dabei mit erkennbarer Leichtigkeit Riff an Riff, Solo an Solo reihen.
Die ununterbrochenen Tourneen durch England und Europa haben The Amorettes zu einer grazilen, gemeinen Rock´n`Roll-Maschine heranreifen lassen und ihnen die Reputation "Wie Airbourne mit Joan Jett als Frontfrau" beschert. Großartige Reviews für ihre Konzerte und ihre Alben haben den Eindruck noch zusätzlich verstärkt, dass hier ein besonders heller Stern am Firmament aufgegangen ist. Und solange es Bühnen gibt, die The Amorettes im Handstreich nehmen können, und Alben, die dieses vitale Band zukünftig produzieren kann, deutet nichts darauf hin, dass die "weiblichen Motörhead" den bequemsten Weg zum Gipfel wählen werden.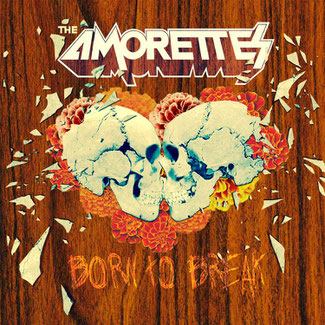 Tracklisting
01. Can You Feel The Fire 4:40
02. Hello And Goodbye 3:49
03. Everything I Learned I Learned From Rock And Roll 4:03
04. Born To Break 3:46
05. What Ever Gets You Through The Night 4:03
06. Hell Or High Water 4:12
07. You Still Got Rock And Roll 3:57
08. Easy Tiger 3:22
09. Bat Shit Crazy 4:00
10. Coming Up The Middle 3:41
11. High On Your Energy 3:39
12. I Want It Bad 4:24
"Born To Break" wurde produziert von Luke Morley von THUNDER und
aufgenommen und gemixt von Nick Brine (The Darkness etc..). Das Album erscheint am 06. April 2018 über SPV/Steamhammer als CD Digipak, 2LP Gatefold farbiges Vinyl, Download und Stream.
Line Up:
Gill Montgomery - guitar,vocals
Hannah McKay - drums
Heather McKay - bass
https://de-de.facebook.com/theamorettes