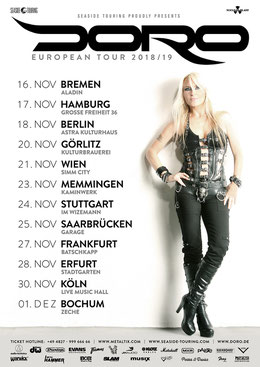 Endlich ist es soweit! Am 3. August erscheint das lang ersehnte neue Studioalbum von Doro.
Die Metal-Queen verrät: "Das Album ist fertig geschrieben, wir sind gerade dabei, es zu Ende zu mixen. Es wird ein sehr abwechslungsreiches Album mit vielen schnellen Krachern und jeder Menge Metal-Hymnen!" Doro weiter: "Ganz ehrlich, einer dieser Songs könnte ein neues 'All We Are' werden!"
Mit diesem Hit und ihrem neuen Album im Gepäck geht der blonde Metal-Engel samt Band zur Feier des 35-jährigen Bühnenjubiläums im Spätsommer auf große Welt-Tournee. Und ab dem 16. November 2018 ist Doro dann auch endlich wieder in Deutschland und Österreich zu sehen.
Und was kann Doro sonst noch verraten zu ihrem neuen Album? "Der erste Titel, den ich dafür geschrieben habe, ist ein Song für Lemmy. Er heißt 'Living Live To The Fullest'!" In schöner Tradition findet sich natürlich auch wieder ein deutscher Song auf dem Album.
All das gibt es bald live zu erleben! Und natürlich die ganz, ganz großen Hits und Hymnen der Rock- und Metal-Queen wie "All We Are", "Für Immer", "Burning The Witches", "Raise Your Fist" und viele, viele mehr!
DORO - European Tour 2018/19
+ SPECIAL GUEST
16.11.2018 - D - Bremen, Aladin
17.11.2018 - D - Hamburg, Große Freiheit 36
18.11.2018 - D - Berlin, Astra Kulturhaus
20.11.2018 - D - Görlitz, Kulturbrauerei
21.11.2018 - A - Wien, Simm City
23.11.2018 - D - Memmingen, Kaminwerk
24.11.2018 - D - Stuttgart, Im Wizemann
25.11.2018 - D - Saarbrücken, Garage
27.11.2018 - D - Frankfurt, Batschkapp
28.11.2018 - D - Erfurt, Stadtgarten
30.11.2018 - D - Köln, Live Music Hall
01.12.2018 - D - Bochum, Zeche