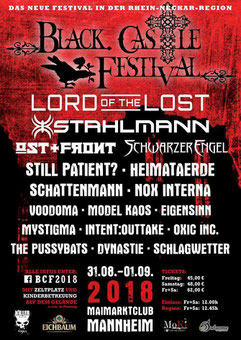 Das neue Highlight der schwarzen Festivalszene in der Metropolregion!
Zum Ende der Open-Air-Saison 2018 wird auf dem Maimarktgelände in Mannheim und im Maimarktclub nochmal kräftig gefeiert. Zwei Tage lang geben sich Top-Acts wie Lord of the Lost, Stahlmann, Schwarzer Engel, Ost + Front, Heimaterde und viele mehr die Klinke in die Hand. Zwischendurch lohnt sich ein Abstecher auf den Mittelaltermarkt mit zahlreichen Ausstellern – von Kunsthandwerk bis zum herzhaften Leckerbissen. Der Mittelaltermarkt kann auch unabhängig vom Festival besucht werden.
Großes Plus für Familien: Dank professioneller Kinderbetreuung, können die Mamas und Papas unter den Festival-Gängern die Live-Auftritte der Bands ungestört genießen. Campingmöglichkeiten gibt es direkt am Festivalgelände.
as BCF 2018 findet vom 31. August bis zum 1. September 2018 im Maimarkt Club Mannheim auf dem Maimarktgelände statt.
Der Veranstaltungsort ist mit öffentlichen Verkehrsmitteln sehr gut zu erreichen, Haltestellen für Bus und Bahn direkt auf der gegenüberliegenden Straßenseite sowie ausreichend Parkplätzen
Tickets für die Veranstaltung findet ihr hier:
Folgende Bands warten auf dem BLACK CASTLE FESTIVAL auf euch:
MYSTIGMA | DYNASTIE | OXIC INC | MODEL KAOS | NOX INTERNA | OST+FRONT | SCHWARZER ENGEL | STILL PATIENT? | SCHLAGWETTER | THE PUSSYBATS | INTENT:OUTTAKE | EIGENSINN | VOODOMA | SCHATTENMANN | HEIMATAERDE | LORD OF THE LOST | STAHLMANN