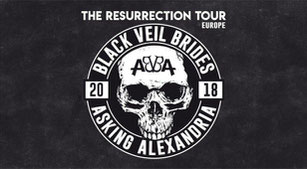 Mit dem atemberaubenden Doppelpack Black Veil Brides und Asking Alexandria kommen zwei der künstlerisch herausforderndsten Bands der Szene harter Musik gemeinsam nach Deutschland. Musik, die aus einem Außenseitertum heraus entsteht, ist häufig intensiv und hochemotional. So auch bei Black Veil Brides, der Band um Sänger Andy Biersack. In der Schule galt der aus Cincinnati/Ohio stammende Sohn eines Punkrock-Gitarristen als sogenannter 'Emo' und wurde dafür offensiv gehänselt.
Er flüchtete sich in die Musik und fand Gleichgesinnte, mit denen er 2006 Black Veil Brides ins Leben rief. Seither zählt die Band zu den aufregendsten Formationen zwischen Metalcore und Gothic Metal. Die Basis des energetischen, raumgreifenden Sounds von Asking Alexandria rund um ihren Vordenker Ben Bruce ist ebenfalls der Metalcore. Diesen reichern sie mit einer Vielzahl an Stimmen und Melodien sowie trancigen Elementen an, die eher an Ambient-Musik angelehnt sind als an modernen Heavy Metal. Nun kommen beide Formationen mit jeweils einem neuen Album im Gepäck nach Deutschland: Am 29. Januar spielen sie eine exklusive Show in Köln.
Asking Alexandria, die zunächst auf den Namen Amongst Us hörten, dürfen sich rühmen, die erste international bekannte Metalcore-Gruppe aus den Vereinigten Arabischen Emiraten zu sein. Ihre Gründung geht zurück auf den Briten Ben Bruce, der 2003 in Dubai lebte und dort Gleichgesinnte suchte. Großer Erfolg war ihm damit nicht beschieden. Ständig zogen frisch rekrutierte Musiker wieder zurück in die englische Heimat, das Debütalbum "The Irony Of Your Perfection" brauchte deshalb Jahre bis zur Fertigstellung. Im Anschluss an eine Tour löste Bruce die Band auf.

Ein Jahr nachdem Bruce zurück nach Großbritannien gezogen war, reüssierte er mit neuem Line-up unter dem Namen Asking Alexandria. Mit dem 2009 erschienenen Album "Stand Up And Scream" erreichte das Quintett in der Metalcore-Szene internationale Beachtung. Neben Bruce kam mit Keyboarder Danny Worsnop ein zweiter kreativer Kopf zur Band, der in der Folge auch für den Lead-Gesang zuständig war. Gemeinsam komponierten die beiden das 2011 erschienene Album "Reckless And Relentless", das gleich nach Veröffentlichung Platz 9 der Billboard Charts stürmte. 2013 folgte das Album "From Death To Destiny", das zu ihrem bislang erfolgreichsten geriet. Das 2016 veröffentlichte vierte Album "The Black" bedeutete eine weitere Zäsur in der Bandgeschichte: Danny Worsnop verließ Asking Alexandria und wurde durch den ukrainischen Metalcore-Musiker Denis Stoff ersetzt. Stoff indes verblieb nur für dieses Album bei der Band, bevor Worsnop zurückkehrte. Mit ihm zusammen entstand dann auch das für Mitte Dezember angekündigte fünfte Album "Into The Fire".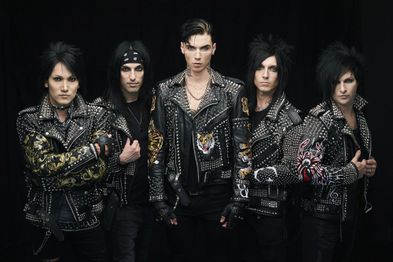 Das Internet verhalf Black Veil Brides innerhalb kürzester Zeit zu beachtlicher Anerkennung. Bereits vor Veröffentlichung ihres Debüts "We Stitch These Wounds" waren sie bei den Fans harter Musik in aller Munde. 2011 erschien mit großem Erfolg ihr zweites Album "Set The World On Fire", das auf Platz 17 der US-Charts einstieg und die Nr. 3 der UK-Rock-Charts erreichte. Das 2013 veröffentlichte Konzeptalbum "Wretched And Divine: The Story Of The Wild Ones" landete auf Anhieb auf Platz 7 der Billboard Charts und knackte die Top 20 in England. 2014 folgte das nächste Großereignis mit dem vierten Album "Black Veil Brides IV", das erneut in die UK-Charts einstieg.

Ihre Mischung aus Emocore, Post-Hardcore und Metalcore stößt dabei auf flächendeckende Begeisterung. Zahlreiche junge, sich auf einer Suche befindliche Musikhörer können sich mit den persönlichen Themen und Problemen von Andy Biersack identifizieren. Und doch war Black Veil Brides anfangs kein Glück beschieden. Die erste Besetzung löste sich, ähnlich wie bei Asking Alexandria, innerhalb weniger Monate vollständig auf. Biersack zog 2009 nach Los Angeles und reformierte Black Veil Brides. In neuem Line-up starteten sie erneut durch – und dann kam auch der Erfolg. Die Alben gerieten immer tiefgründiger und konzeptioneller – ein Umstand, der auch für das kommende, derzeit noch unbetitelte Album gilt, das Anfang 2018 erscheinen soll. Mit diesem massiven Package beginnt das konzertante Metalcore-Jahr 2018 absolut fulminant.

Termine
29.01.2018 - Köln, Palladium