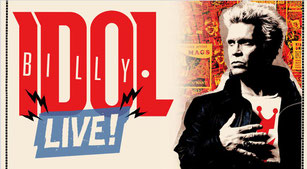 Punk-Ikone Billy Idol lässt es krachen Der schockblonde Rockrebell kehrt im Sommer zurück Konzerte in Regensburg, München, Halle (Saale), Köln, Berlin & Hamburg
Billy Idol hat musikalische Brücken zwischen Punk und Hardrock gebaut. Der schockblonde Rockrebell, der die Musikwelt mit "Rebel Yell", "Dancing With Myself", "Flesh For Fantasy" und "Cradle Of Love" faszinierte, feierte 2006 mit der CD "Devil's Playground" ein erstaunliches Comeback.
Nach über einem Jahrzehnt zog es den Punk-Provokateur wieder auf die Bühnen zurück, die er mit schrillen Songs, aggressiven Attitüden und dem Charme des Mittelfingers eroberte. Im Sommer kommt Billy Idol endlich wieder nach Deutschland und spielt sechs Konzerte in Regensburg, München, Halle (Saale), Köln, Berlin und Hamburg.

Der in England geborene Billy Idol traf bei den Sex Pistols, The Clash und Generation X, deren Sänger er schließlich wurde, auf Gleichgesinnte. Anfang der 80er Jahre zog er nach New York und dann weiter nach Los Angeles, wo er heute noch lebt. Der internationale Durchbruch gelang ihm mit "Rebel Yell" (1984), das in Deutschland Platz 2 der Charts erreichte. Die Single "Sweet Sixteen" vom dritten Album "Whiplash Smile" entwickelte sich hierzulande zu seiner erfolgreichsten Hitsingle.

Ein schwerer Motorradunfall, bei dem er nur knapp dem Tod entkam, überschattete die Veröffentlichung der CD "Charmed Life" (1990), die dennoch Furore machte. An den Rand der Existenz führte ihn ungezügelter Drogenkonsum. Erst mit dem totalen Rückzug ins Private kam die Besinnung. Billy Idol hat die Exzesse hinter sich gelassen, aber in seiner Musik und live ist er nach wie vor kompromisslos geblieben. Mit "Devil's Playground" (2005) "zoomte er den Hörer zurück in die Zeit, wo nach harten Nächten noch keine Kopfschmerzen klopften und einem ganz viele Dinge ganz wunderbar scheißegal waren" (Stern).

Im Oktober 2014 kehrte Billy Idol mit einem Doppelschlag zurück: Fast zeitgleich zur Veröffentlichung seines Albums "Kings & Queens Of The Underground" brachte er seine Autobiographie unter dem Titel "Dancing With Myself" heraus und sorgte somit für jede Menge Gesprächsstoff. Trotz seiner über 30-jährigen Musikkarriere ist Billy Idol nach wie vor ein Rockrebell par excellence. Dies wird er im Juni/Juli 2018 auch wieder auf deutschen Bühnen unter Beweis stellen.

Live Nation Presents
Billy Idol - Live 2018
26.06.2018 - Regensburg, Donau Arena
03.07.2018 - München, Tollwood Festival
14.07.2018 - Halle (Saale), Peißnitz Insel
17.07.2018 - Köln, Tanzbrunnen
19.07.2018 - Berlin, Zitadelle
22.07.2018 - Hamburg, Stadtpark
MagentaEINS Prio Tickets: Mo., 11.12.2017, 10:00 Uhr
Vorverkaufsstart: Mi., 13.12.2017, 10:00 Uhr
www.ticketmaster.de
Ticket-Hotline: 01806 – 999 0000 (Mo-Fr 8-22 Uhr / Wochenende u. Feiertage 9- 20 Uhr) (0,20 Euro/Anruf aus dem dt. Festnetz, max. 0,60 Euro/Anruf aus dem dt. Mobilfunknetz)
www.eventim.de
Ticket-Hotline: 01806 – 57 00 00 (0,20 Euro/Anruf aus dem dt. Festnetz, max. 0,60 Euro/Anruf aus dem dt. Mobilfunknetz)

www.billyidol.net
www.facebook.com/billyidol