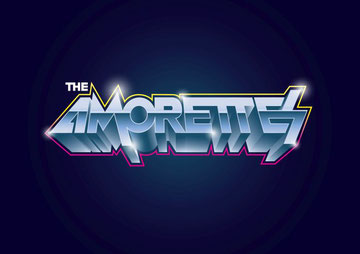 - The Amorettes haben einen neuen weltweiten Plattenvertrag -
- Brandneues Album für 2018 geplant -

Die schottischen Rocker THE AMORETTES geben heute bekannt, dass sie einen weltweiten Plattenvertrag mit dem deutschen Label SPV / Steamhammer unterzeichnet haben und ihr neues Album Anfang 2018 veröffentlichen werden. "Das sind großartige Neuigkeiten für THE AMORETTES", sagt Gitarristin / Sängerin Gill Montgomery. "SPV hat einen enormen Ruf für die Unterstützung ihrer Künstler, daher macht dieser Schritt so viel Sinn."
"Das ist der nächste große Schritt für die Band und wir können es kaum erwarten zu sehen, was die Zukunft mit SPV zu bieten hat", sagt Bassistin Heather McKay. "Es ist so unwirklich, auf dem gleichen Label wie die Ikone Lita Ford und so viele andere fantastische Bands zu sein.", fährt Drummerin Hannah McKay fort. "Wir freuen uns sehr auf die Zusammenarbeit mit SPV, um unsere Musik weiter zu verbreiten."

Ein intensives Touring in den letzten Jahren mit Künstlern wie Thunder, Black Star Riders, Europa, Danko Jones, Ash, Airbourne, The Dead Daisy, Black Stone Cherry sowie Festivalauftritten wie Download, T-In The Park, Rock And Blues, Steelhouse, Bloodstock, Planet Rockstock, Hard Rock Hell, Wildfest, Nordic Noise und mehr halfen THE AMORETTES dabei, eine starke und loyale Fangemeinde in Großbritannien, Europa und darüber hinaus aufzubauen.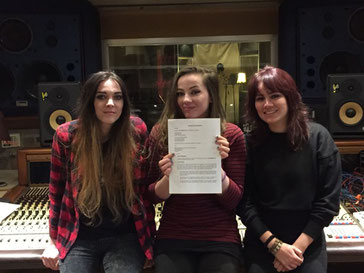 Diese Arbeitsethik von "Ein Gig nach dem anderen" und "Bring es zu den Leuten" machte SPV / Steamhammer auf THE AMORETTES aufmerksam.

"Ich hatte immer schon eine Affinität zu Girlbands wie Rock Goddess und Girlschool aus England oder Vixen und Phantom Blue aus den USA.", sagt Olly Hahn, SPV / Steamhammer-Chef, "und deshalb bin ich sehr glücklich, dass THE AMORETTES jetzt Teil der Steamhammer-Familie sind. Die Band hat in den letzten Jahren hart gearbeitet und ich bin mir sicher, dass sich mit dem neuen Album und dem Team hinter der Band alles auszahlen wird!"

"Wir können Olly und seinem Team nicht genug danken für den Glauben, den sie an die Band haben", fährt Montgomery fort, "und wir freuen uns auf eine lange und lohnende Zusammenarbeit. Wir sind wirklich begeistert von unserem neuen Album und können es kaum erwarten, dass es alle hören."

THE AMORETTES explodierten Anfang 2015 mit der Veröffentlichung ihres von Chris Tsangarides produzierten Albums "Game On" und einer umfassenden Tour, die das kraftvolle Trio durch ganz Großbritannien und Europa führte. Der gefeierte Nachfolger "White Hot Heat" wurde von Thunders Luke Morley  produziert und von Nick Brine (Coldplay, Ash, Snow Patrol, Bruce Springsteen, The Darkness u.a.) engineered und von Pete Maher gemastert (U2, The Rolling Stones).

http://www.theamorettes.com
https://de-de.facebook.com/theamorettes

www.spv.de
https://www.facebook.com/steamhammerofficial/