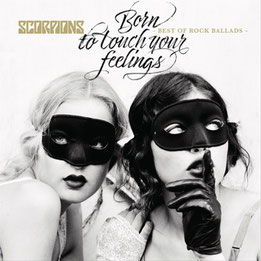 VÖ: 24.11.2017
Label: Sony Music Entertainment
Format: CD
Tracklist:
01. Born To Touch Your Feelings (MTV Unplugged Studio Edit)
02. Still Loving You (Comeblack Version)
03. Wind Of Change (Comeblack Version)
04. Always Somewhere ( 2015 Remaster)
05. Send Me An Angel (Acoustic Version 2017)
06. Holiday (2015 Remaster)
07. Eye Of The Storm (Radio Edit)
08. When The Smoke Is Going Down (2015 Remaster)
09. Lonely Nights
10. Gypsy Life
11. House Of Cards (Single Edit)
12. The Best Is Yet To Come
13. When You Came Into My Life (MTV Unplugged)
14. Lady Starlight (2015 Remaster)
15. Follow Your Heart (Version 2017)
16. Melrose Avenue
17. Always Be With You
Viele werden nun sagen "Och nö! Nicht schon wieder ein weiteres Balladen-Album"... und ja, man kann sich nun wirklich fragen "Braucht die Welt das noch?". Mittlerweile ist es ja doch Gang und Gäbe, dass viele Künstler immer mal wieder Balladen-Alben oder diese lächerlichen Toureditions veröffentlichen.
Wenn man sich viele dieser Balladen-, oder Best Of-CDs ansieht und feststellt, dass hier einfach nur in die Archivkiste gegriffen, eine handvoll Songs ausgesucht und auf einen Rohling geworfen wurden, liegt man sicherlich richtig in der Annahme, dass hier nur das Geld der Fans abgezockt werden soll und sich ein Künstler wahrscheinlich keine 5 Minuten überlegt hat, ob man das braucht oder nicht.
Bei dieser CD möchte ich allerdings eine Ausnahme machen.
Sänger Klaus Meine sagte mal "Balladen sind die Königsklasse des Rock. Sie trifft, wenn sie gut sind, mitten in die Herzen der Fans."
Und ja verdammt, Balladen konnten die SCORPIONS schon immer! Egal ob unplugged, live oder im Studio, fast jeder Song, den die Band in dieser Kategorie schreibt, ist ein wundervolles Bündel an Emotionen und läd zum träumen ein. Und eben hiervon haben die SCORPIONS nun eine Auswahl der besten unter ihren Besten zusammen gesucht. Aber eben nicht nur die "schnöden" verstaubten Songs aus der Archivkiste, sondern auch aktuellere Aufnahmen, Unplugged Versionen, remastered oder sonst wie mit aktueller Technik bepinselt. Außerdem finden sich bei den letzten drei Tracks dieses Albums, "Follow Your Heart", "Melrose Avenue" und "Always Be With You" die neuen Tracks, die die Scorpions geschrieben haben und die sich perfekt in die alten Hits einreihen.
Hier stammt jeweils einer aus der Feder von Klaus Meine, Matthias Jabs und Rudolf Schenker.
Das wundervolle Coverartwork wurde von keiner geringeren als Ellen von Unwerth geschaffen, und schließt auch nahtlos an die anderen tollen Cover mit Sammelcharakter an.
Wer sich also nicht zu fein für Balladen im CD Regal ist, darf auch bei "Born To Touch Your Feelings" beherzt zugreifen und wird mit dieser Veröffentlichung auf jeden Fall seine Freude haben!
(Sarah Jacob)