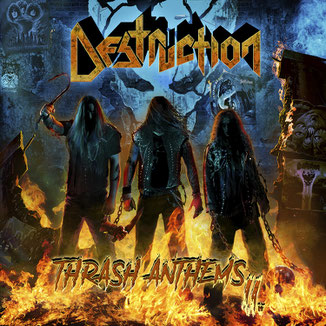 VÖ: 10.11.2017
Label: Nuclear Blast
Format: CD
Tracklist:
01. Confused Mind (5:50)
02. Black Mass (3:59)
03. Frontbeast (2:01)
04. Dissatisfied Existence (4:34)
05. United By Hatred (4:36)
06. The Ritual (4:40)
07. Black Death (6:39)
08. The Antichrist (3:11)
09. Confound Games (4:51)
10. Ripping You Off Blind (5:30)
11. Satan's Vengeance (3:22)
Mit THRASH ANTHEMS II haben DESTRUCTION einen weiterne Langspieler auf den Markt gebacht. Dieses Werk nahm seinen Lauf über eine PledgeMusic Kampange, bei der die Fans die Möglichkeit haben, exklusive Merchandise-Artikel zu erwerben, die es sonst nicht zu kaufen gibt und so die Produktion des Albums schon im Vorfeld zu unterstützen. Davon mag man halten was man will, in diesem Fall ist jedenfalls eine sehr starke CD dabei erschienen, die sich die Fans vermutlich auch so gekauft hätten. Und genau deswegen, gab es eine zweite Version, die nun eben auch über Nuclear Blast erschienen ist.
Musikalisch gibt es nicht unbedingt Neuerungen zu hören, aber man kann sich darauf verlassen, dass der typische DESTRUCTION Sound aus den Boxen brüllt (natürlich brüllt es, man muss ja lauf aufdrehen!!).
Da die Fans die Trackliste mitbestimmen konnten, ist diese Veröffentlichung nicht nur ein schönes Best of, sondern eben doch etwas besonderes, was es nicht alle Tage gibt.
Die Neuaufnahmen der Tracks wurde in den schweizer Little Creek Studios gemacht. Diese Aufnahmen wurden allerdings nicht mit irgend einem Chichi ausgechmückt, sondern im gewohnten Oldschool-Sound belassen, diesen aber eben trotzdem neu und frisch klingen lassen.
So kann man getrost und ohne viele Worte zu verlieren sagen, dass dieses Werk den Titel "Thrash at it's best" verdient und jeder, der diese Scheibe noch nicht zuhause hat, sollte sofort los laufen und sich das Teil besorgen. Lohnt sich!
(Sarah Jacob)