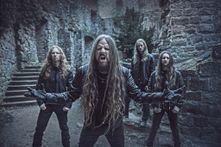 Nach ihrer "Okkult" Welttournee sind ATROCITY kürzlich zu Massacre Records zurückgekehrt und haben ihre kommende EP "Masters Of Darkness" angekündigt!
ATROCITY gehen keine Kompromisse ein: "Masters Of Darkness" ist brutal, bombastisch und düster zugleich! Die neue, eindrucksvolle EP ist der perfekte Vorbote für das kommende ATROCITY Album "Okkult II", das 2018 weltweit via Massacre Records erscheinen wird! Fans härterer ATROCITY Alben, wie dem "Okkult" Album oder den Death Metal Klassikern "Hallucinations", "Todessehnsucht", "Blut" oder "Atlantis", werden bei der neuen EP voll auf ihre Kosten kommen!
"Masters Of Darkness" erscheint am 08.12.2017 und ist als limitierte 4-Track Digipak-EP sowie als limitierte 2-Track 7" Vinyl Single mit farblich leicht verändertem Cover erhältlich. Die EP und 7" sind bereits vorbestellbar.
"Masters Of Darkness" wurde von Alexander Krull im Mastersound Studio produziert. Für das Artwork ist Stefan Heilemann / Heilemania (Lindemann, Epica, Kamelot) verantwortlich.
Pre-order:
• iTunes - https://massacre.lnk.to/mastersofdarkness
• Amazon (Digi EP) - http://amzn.to/2zraOR3 (DE)
• Amazon (Vinyl Single) - http://amzn.to/2zqfLcY (DE)
• EMP - Germany: http://bit.ly/2yHdT0p • International: http://bit.ly/2hR05py
• Nuclear Blast Online Shop - http://bit.ly/2zobrLw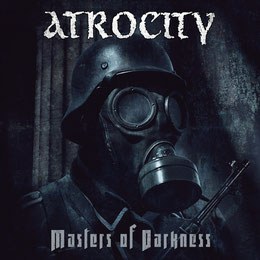 ATROCITY - Masters Of Darkness
(4-Track Digipak EP)
Track List
01. Masters Of Darkness
02. Menschenschlachthaus
03. Gates To Oblivion
04. Devil's Covenant
ATROCITY - Masters Of Darkness
(2-Track 7" Vinyl Single)Track List
01. Masters Of Darkness
02. Menschenschlachthaus
---
ATROCITY und Massacre Records schmieden stählernes Bündnis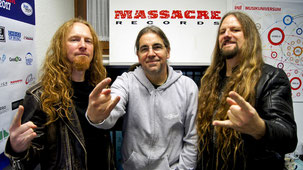 Back to the future! ATROCITY haben bei Massacre Records einen langfristigen Plattenvertrag unterzeichnet, und sind das erste Signing bei Massacre Records nach der Übernahme durch Soulfood Music!

Alex Krull / ATROCITY dazu:
"Einfach Wahnsinn: ATROCITY unterzeichnen bei Massacre Records - bei dem Label, welches Mitte der 90er Jahre die prägende und sehr wichtige Phase der Band ermöglicht und ATROCITY Klassiker wie "BLUT", "Willenskraft" oder "Werk 80" veröffentlicht hat! Dass nun Jochen Richert und sein Soulfood-Team durch den Anschluss von Massacre Records im Hause Soulfood Music mit im Boot sind, rundet die Sache ausgezeichnet ab! Jochen war damals schon als erfolgreicher Vertriebspartner mit am Start. Wir freuen uns auf die Zusammenarbeit mit Thomas und Massacre Records, und werden es demnächst richtig krachen lassen! Die Schwaben Invasion kann beginnen!"

Thomas Hertler / Massacre Records fügt hinzu:
"Die Rückkehr von ATROCITY zu Massacre Records ist in diesem Business schon fast einmalig - nach fast 20 Jahren fügt sich die legendäre Schwaben-Connection wieder zusammen und alle Beteiligten freuen sich riesig auf die Zusammenarbeit!"

Mehr tödliche News von ATROCITY folgen in Kürze!
http://www.atrocity.de
https://www.facebook.com/AtrocityOfficial
https://twitter.com/atrocitypage
https://www.youtube.com/user/AtrocityOfficial