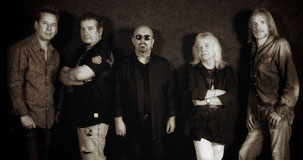 Neues Album LOST ON THE ROAD TO ETERNITY
20. Studioscheibe der Band erscheint am 19. Januar 2018
Duett mit Gastsänger Tobias Sammet im Titelsong
Mit der Veröffentlichung ihres neuen Albums Lost On The Road To Eternity feiert die englische Hardrock-Band Magnum am 19. Januar 2018 ein ganz besonderes Jubiläum. Es ist die insgesamt 20. Studioscheibe der Gruppe um die Gründungsmitglieder Bob Catley (Gesang) und Tony Clarkin (Gitarre) seit ihrem 1978er Debüt Kingdom Of Madness. Gleichzeitig stellen Clarkin, Catley und Bassist Al Barrow mit den Neuzugängen Rick Benton (Keyboards) und Lee Morris (Schlagzeug) ihr aktuelles Line-Up vor. Benton stieß im Dezember 2016 zur Band und ersetzt das langjährige Mitglied Mark Stanway, während Morris erst vor wenigen Monaten für Harry James gekommen ist.
Insgesamt elf neue Songs sind auf Lost On The Road To Eternity zu finden, darunter die erste Singleauskopplung ´Without Love` sowie im Titeltrack ein Duett Catleys mit Tobias Sammet, eine Art künstlerischer Gegenbesuch des Edguy/Avantasia-Frontmannes als Dankeschön für Catleys Gastrolle auf einigen seiner Veröffentlichungen.
Abgerundet wird die Scheibe durch ein erneut stimmungsvolles Cover-Artwork von Rodney Matthews sowie vier Live-Bonustracks (´Sacred Blood – Divine Lies`, ´Crazy Old Mothers`, ´Your Dreams Won`t Die` & ´Twelve Men Wise And Just`) vom 2017er Auftritt beim Leyendas Del Rock Festival im spanischen Alicante.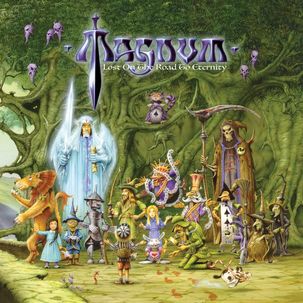 TRACKLISTING:
CD 1
01. Peaches and Cream 4:54
02. Show Me Your Hands 5:45
03. Storm Baby 6:13
04. Welcome to the Cosmic Cabaret 8:08
05. Lost on the Road to Eternity 5:54
06. Without Love 5:55
07. Tell Me What You've Got to Say 6:27
08. Ya Wanna Be Someone 5:56
09. Forbidden Masquerade 5:02
10.Glory to Ashes 5:35
11. King of the World 7:04
CD 2 (Bonus Live Disc)
01. Sacred Blood – Divine Lies 6:48
02. Crazy Old Mothers 5:35
03. Your Dreams Won't Die 5:56
04. Twelve Men Wise And Just 6:21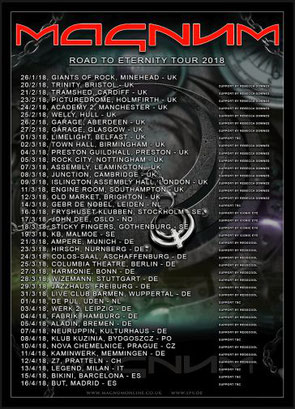 Bereits ab März 2018 sind Magnum dann wieder auf großer Tournee durch Deutschland und der Schweiz:
THE ROAD TO ETERNITY TOUR 2018
21.03.2018 - D - München, Ampere
23.03.2018 - D - Nürnberg, Der Hirsch
24.03.2018 - D - Aschaffenburg, Colos-Saal
25.03.2018 - D - Berlin, Columbia Theater
27.03.2018 - D - Bonn, Harmonie
28.03.2018 - D - Stuttgart, Im Wizemann
29.03.2018 - D - Freiburg, Jazzhaus
31.03.2018 - D - Wuppertal, Live Club Barmen
03.04.2018 - D - Leipzig, Werk 2
04.04.2018 - D - Hamburg, Fabrik
05.04.2018 - D - Bremen, Aladin
07.04.2018 - D - Neuruppin, Kulturhaus
11.04.2018 - D - Memmingen. Kaminwerk
12.04.2018 - CH - Pratteln, Z7
Tickets unter: www.adticket.de
https://www.facebook.com/magnumbandpage