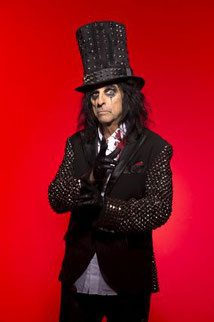 "Spend The Night With" Tour 2017
Gäste: Thunder

Wie oft er schon auf der Bühne gestorben ist, weiß niemand, zelebriert wird der ewige Kampf zwischen "Gut und Böse" aber mit viel Kunstblut, Zwangsjacken, der ein oder anderen Boa Constrictor und einem genüsslich guillotinierten oder spektakulär erhängten ALICE COOPER.

Ursprünglich war ALICE COOPER der Name der Band, die bis 1974 existierte und von Bob Ezrin produzierte Erfolgsalben wie "School's Out" und "Billion Dollar Babies" veröffentlichte. Besonders die Top-Ten Single "School's Out" und die aufwändigen Bühnenshows machten die Band in den 70ern auch in Deutschland berühmt und berüchtigt. 2011 wurde die Band posthum in die Rock and Roll Hall of Fame aufgenommen.
Sänger Vincent Damon Furnier übernahm nach der Auflösung der Band den Namen ALICE COOPER und perfektionierte als Solo-Künstler die schaurigen Bühnenshows. Mit Songs wie »Poison« hielt er sich auch solo an der Spitze der Rockcharts. Kaum zu glauben, dass der so extravagante ALICE COOPER im richtigen Leben als Vincent ein sehr gläubiger Familienmensch ist, was er seit über 30 Jahren an der Seite seiner Frau und als Vater von drei Kindern beweist.
ALICE COOPER wurde ein gefeierter Publikumsmagnet auf Festivals & Tourneen und ebnete gleichzeitig Bands wie Kiss, Marilyn Manson, Ozzy Osbourne, King Diamond, Lordi oder Gwar den Weg zu ihren theatralischen, monströsen Rockshows.
Im Jahr 2000 trat Coopers Tochter Calico in die Fußstapfen ihrer Mutter und steht seitdem neben ihrem Vater auf der Bühne. Sie verstärkt die Bühnenshows ihres Vaters tatkräftig, indem sie in verschiedene Rollen schlüpft und sich vor den Augen des Publikums regelmäßig demütigen und quälen lässt. Alles im Sinne der Show natürlich. So verkleidet sie sich als Domina, Britney Spears und lässt sich als Paris Hilton von ihrem Handtaschen-Chihuahua in die Kehle beißen.
Die deutschen Fans dürfen sich auf sieben spektakuläre Shows mit ALICE COOPER freuen, in denen er und seine Band mit Kunstblut, Zwangsjacken und Guillotine alle Register ihrer dramatischen Rock-Show ziehen werden, vollgepackt mit alten und neuen Hits aus seinem unglaublichen Repertoire.