- NEUES ALBUM ERSCHEINT AM 19. JANUAR 2018 -
- EUROPA TOURNEE FÜR 2018 BESTÄTIGT -
Sicherlich gibt es Bands, die sich noch höher in den Charts platziert konnten, mehr Alben verkauft und größere Hallen gefüllt haben als Anvil. Trotzdem genießt kaum eine andere Metal-Formation so viel Respekt unter Kollegen wie die kanadische Gruppe um Sänger/Gitarrist Steve ´Lips` Kudlow und Schlagzeuger Robb Reiner.

Zu den namhaftesten Anvil-Bewunderern gehören unter anderem internationale Stars wie Metallica oder auch der leider verstorbene Lemmy von Motörhead, die immer wieder ihre uneingeschränkte Hochachtung äußerten. Die Gründe für diesen offenkundigen Respekt liegen auf der Hand: Seit 1978 sind Anvil der Inbegriff einer leidenschaftlichen Heavy Metal-Band, die sich auch von Nackenschlägen, widrigen Umständen und geschäftlichen Ungereimtheiten nicht vom Kurs haben abbringen lassen. Ihr neues Album Pounding The Pavement gibt diesem bravourösen Durchhaltevermögen Recht: Nie zuvor klangen Anvil so vielseitig, entschlossen und inspirierend.
Weshalb Pounding The Pavement so überzeugend ausfällt? Kudlow hat dafür eine ganz einfache Erklärung: "Das Songwriting begann bereits unmittelbar, nachdem unser letztes Album Anvil Is Anvil fertiggestellt war", erzählt er, "insofern waren wir mit unseren Gedanken sofort wieder auf die Zukunft ausgerichtet. Als die letzte Scheibe im Kasten war, wusste jeder genau, was wir gerade abgeliefert hatten und wie die Zukunft von Anvil klingen soll." Trotz aller Ideenvielfalt ist es Kudlow, Reiner und ihrem Bassisten Chris Robertson gelungen, auch die typischen Merkmale dieser außergewöhnlichen Band erneut mit Leben zu füllen. Ein wichtiger Gesichtspunkt für ein Anvil-Werk, denn Tradition und Zuverlässigkeit spielen in dieser Band eine essentielle Rolle. Kudlow: "Natürlich lassen wir immer auch Inspirationen durch frühere Veröffentlichungen zu, aber stets unter dem Aspekt einer gezielten Aktualisierung des charakteristischen Anvil-Sounds. Viele Fans bitten darum, dass wir so spielen wie in den so genannten guten alten Tagen. Deshalb versuche ich von Zeit zu Zeit, dieses prickelnde Gefühl älterer Songs wieder aufzugreifen. Allerdings geht dabei immer nur um das damalige Grundgefühl, nie um die Kopie eines bereits dagewesenen Songs."
Produziert wurde Pounding The Pavement im ´Soundlodge`-Studio in Rhauderfehn im Nordwesten Deutschlands. Hier fanden Anvil nicht nur die nötige Ruhe und Abgeschiedenheit, um sich komplett auf die Aufnahmen konzentrieren zu können, sondern mit Studiobesitzer Jörg Uken auch den perfekten Produzenten für ihre ambitionierte Arbeit. Apropos: Beim programmatischen Albumtitel Pounding The Pavement handelt es sich um ein Synonym für die immer wieder harte Herausforderung, das wirtschaftliche Überleben von Anvil zu sichern. Kudlow: "Ich denke, nichts könnte besser als Pounding The Pavement beschreiben, wie wir seit 40 Jahren arbeiten: Anvil versuchen seit vier Jahrzehnten, genügend Geld zu verdienen, um überleben und weitermachen zu können."
Das neue Album "Pounding The Pavement" erscheint am 19. Januar 2018 über SPV/Steamhammer als Digipak Version (+1 Bonus Track und Poster), 2LP Gatefold farbiges Vinyl, Download und Stream.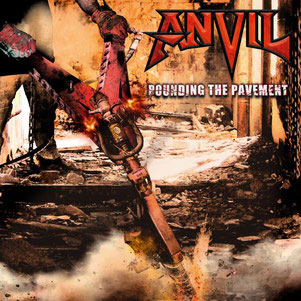 Tracklisting:
01. Bitch In The Box 4:29
02. Ego 2:57
03. Doing What I Want 3:17
04. Smash Your Face 4:20
05. Pounding The Pavement 3:05
06. Rock That Shit 3:21
07. Let It Go 3:00
08. Nanook Of The North 5:57
09. Black Smoke 3:26
10. World Of Tomorrow 4:37
11. Warming Up 3:03
12. Don´t Tell Me 3:51 (bonus track)
ANVIL gehen von Februar bis April 2018 auf eine große Europa-Tour......folgende Daten in der Schweiz und Deutschland sind bereits bestätigt:
ANVIL "Pounding The Pavement" European Tour 2018
13.03.2018 - CH - Solothurn, Kofmehl
14.03.2018 - D - München, Backstage
15.03.2018 - D - Essen, Turock
16.03.2018 - D - Mannheim, 7er Club
17.03.2018 - D - Münster, Sputnikhalle
18.03.2018 - D - Berlin, Musik & Frieden
20.03.2018 - D - Flensburg, Roxy
04.04.2018 - D - Frankfurt, Nachtleben
05.04.2018 - D - Hamburg, Markthalle
06.04.2018 - D - Siegburg, Kubana
https://www.facebook.com/anvilmetal/