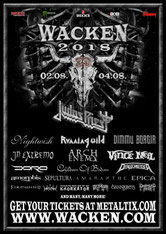 Es ist schon fast Tradition, dass jedes Jahr bei den Hamburg Metal Dayz während des Reeperbahn Festivals eine neue Bandwelle für das Wacken Open Air bestätigt wird. Die Metal-Familie kann sich 2018 unter anderem auf Namen wie Judas Priest, Dimmu Borgir und Children Of Bodom freuen.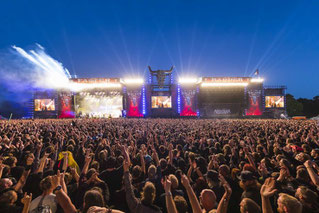 Es ist zwar noch eine Weile hin bis das 29. Wacken Open Air vom 02. bis 04.08.2018 über die Bühne geht. Doch mit der neuen Bandwelle, die traditionell im Zuge der Hamburg Metal Dayz veröffentlich wurde, steigern die Veranstalter die Vorfreude auf das nächste W:O:A schon jetzt. In 314 Tagen stehen unter anderem Judas Priest, Dimmu Borgir, Vince Neil, Children Of Bodom und Amaranthe auf dem lautesten Acker der Welt.
Judas Priest kehren 2018 zurück nach Wacken. Aktuell sind die Legenden um Rob Halford und Co. im Studio und basteln an einem neuen Album. Perfektes Timing also für die britischen Metal-Götter den Holy Ground erneut umzukrempeln und um sich schon mal für ihren 2019 anstehenden 50. Band-Geburtstag warm zu rocken.
Zusammen mit den Metalheads in Wacken feiern werden auch die symphonischen Black-Metaller Dimmu Borgir und die melodischen Death-Metaller Children Of Bodom. Trotz ihrer Unterschiedlichkeiten haben sie eins gemein: Jede dieser Bands "schenkt" dem Wacken Open Air und den 75.000 Metalheads ihre jeweils einzige Festivalshow in Deutschland. Die Bandwelle komplettieren dann noch die schwedisch-dänischen Amaranthe mit viel Melodic Death Metal sowie Vince Neil, der ein Best-of der Mötley Crüe spielt.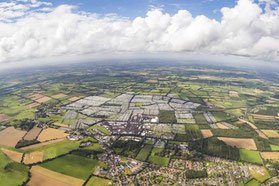 Die fünf neu veröffentlichten Acts sind beim Wacken Open Air 2018 in bester
Gesellschaft. Bereits im August wurden Nightwish, Running Wild, Doro, Arch Enemy, Dirkschneider, In Extremo, Sepultura, Amorphis, Epica, Watain, Knorkator, Belphegor, Firewind, Deserted Fear und Bannkreis veröffentlicht. Weitere Bands werden im Zuge des beliebten W:O:A-Adventskalenders im Dezember veröffentlicht.

Wer sich die Metal-Party auf dem Holy Wacken Land nicht entgehen lassen will, der
kann sich jetzt noch Tickets sichern. Das reguläre Drei-Tages-Festivalticket kostet
220€ inklusive Gebühren (zuzüglich Versandkosten und Systemgebühr). Die Karten
gibt es exklusiv auf www.metaltix.com und bei den offiziellen Reisepartnern.
Einen Trailer mit Eindrücken des Wacken Open Air 2017 sowie einem Ausblick auf
2018 finden Sie hier. Mehr Informationen gibt es unter www.wacken.com.