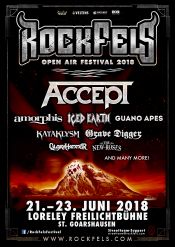 ROCKFELS 2018 - erste Bandbestätigungen
u.a. ACCEPT und GUANO APES bestätigt – von 21. Bis 23. Juni 2018 steigt wieder Deutschlands malerischstes Festival

St. Goarshausen - kaum ein Festival in Deutschland bietet eine so einmalige Kulisse wie das ROCKFELS an der Loreley Freilichtbühne. Im idyllischen Rheintal spielt hier im friedlichen Ambiente die Creme de la Creme des Heavy Metal auf, und zwar von 21. Bis 23. Juni 2018. Jetzt wurden die ersten Bands bestätigt.
Während sich die Sonne langsam ins Rheintal niederlässt und St. Goarshausen in ein angenehm rot-orangenes Licht einhüllt, leuchten die Lampen an der Loreley Freilichtbühne auf: im Juni 2018 ist es wieder Zeit für das ROCKFELS. Das Festival, das durch sein einzigartiges Flair besticht, findet 2018 bereits zum vierten Mal statt und erfreut sich immer größerer Beliebtheit. Egal, ob idyllisches Camping, energiegeladenes Konzert oder geselliges Beisammensein im Loreley Biergarten mit Panorama-Aussicht - hier treffen Heavy Metal Attitude und Festivalfeeling auf die Vorzüge einer historischen, wunderschönen Location. Nach einiger Wartezeit gibt das Veranstalter-Team nun die erste Bandwelle frei und man kann mit Fug und Recht behaupten: das Warten hat sich gelohnt!
Mit ACCEPT entert eine Metalband der ersten Stunde den Headlinerposten. Es gibt mit Verlaub nicht viele Bands, die von sich behaupten können, den Durchbruch gleich zweimal feiern zu können. Seit ihrer Reunion im Rahmen des Langspielers "Blood Of The Nations" wurden die Bande um Wolf Hoffmann, Peter Baltes und den neuen Sänger Mark Tornillo immer fester.
ACCEPT gehören nicht nur zu den ganz großen ihres Genres, sondern gelten gar als die Wegbereiter der deutschen Heavy Metal Landschaft. Ein gigantischer Fundus an Erfahrung, gepaart mit einer beispiellosen Virtuosität, lässt ACCEPT auf eine Erfolgsgeschichte mit fünfzehn Studioalben zurückblicken - zuletzt wurde ihr Meisterwerk "The Rise Of Chaos" veröffentlicht, das die Band zum vierten Mal in die Top 5 der deutschen Albumcharts katapultierte. Und auch auf ihrem neusten Werk beweisen ACCEPT einmal mehr, das auch die Metalband der ersten Stunde längst nicht eingerostet ist - im Gegenteil: auf dem RockFels versprechen ACCEPT eine Headlinershow, die ihresgleichen suchen und die Loreley erzittern lassen wird.
ICED EARTH ist das Projekt um den virtuosen Gitarristen und Komponisten Jon Schaffer, der mit seiner unverwechselbaren Spielart ICED EARTH mittlerweile zu Weltruhm verholfen hat. Seit Mitte der 1980er hat die US-amerikanische Band bereits 12 Studioalben veröffentlicht - zuletzt "Incorruptible", das mit seinem Titel die Attitüde der Band mehr als unterstreicht: hier ist Musik das Lebenselixier.
AMORPHIS gehören zu den wohl erfolgreichsten finnischen Bands. 1990 gegründet, gelang der Band mit Songs wie "House Of Sleep" der weltweite Durchbruch. Berühmt für ihre Live-Qualitäten bespielten AMORPHIS bereits alle großen und namhaften Festivals und verlassen die Bühne nicht selten unter tosendem Dauerapplaus.
Die GUANO APES gehören mit über 4 Millionen verkauften Tonträgern zu den populärsten Bands Deutschlands. Mit Rockröhre Sandra Nasic erspielte sich das Quartett seit Anfang der 1990er eine riesige Fanbase und wühlte den Mainstream mit Songs wie "Big In Japan" oder "Kumba Yo!" gehörig auf.
Außerdem bestätigt sind die Death-Metaller KATAKLYSM, GLORYHAMMER, GRAVE DIGGER und THE NEW ROSES.
Alles in allem ein Wahnsinns-Line-Up, das seinesgleichen sucht und das hohe Niveau des Festivals wieder ein wenig anhebt. Das ROCKFELS 2018 findet vom 21. bis 23. Juni 2018 statt. Tickets sind bereits im Vorverkauf erhältlich.
Ticketlink: https://www.rock-fels.de/tickets-service/
---
RockFels Loreley - finaler Termin: 21.-23.6.2018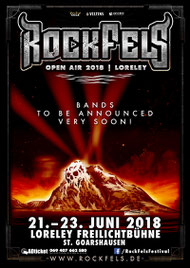 ROCK-FELS Open Air Loreley – finaler Termin für 2018 steht fest: Festival findet von Donnerstag, 21. bis Samstag, 23. Juni statt
St. Goarshausen – Der nächste Termin für Deutschlands wohl malerischstes Festival steht final fest: das RockFels Loreley wird von Donnerstag, 21. Juni bis Samstag, 23. Juni 2018 stattfinden. Der Vorverkauf wird in den nächsten Tagen starten.
Aus organisatorischen Gründen ist die Loreley-Freiluft-Metalparty im nächsten Jahr um einen Tag vorverlegt. Das Warm Up beginnt 2018 bereits am Mittwoch, den 20.6., im Biergarten, das Festival selbst steigt von Donnerstag, 21.6. bis einschließlich Samstag, 23.6. Aufgrund der Veranstaltung "Tal Total" am Sonntag, den 24.6., ist an diesem Tag von 10:00 Uhr bis 18:00 Uhr kein KFZ-Verkehr im gesamten Rheintal möglich. Der Veranstalter bittet daher um eine rechtzeitige Abreise bis Sonntag, 10:00 Uhr, für alle diejenigen, die das Rheintal nutzen. Für die Camper besteht jedoch auch die Möglichkeit über den Taunus abzureisen – in dem Fall besteht die zeitliche Gebundenheit nicht. "Das "Tal Total" ist der Grund, weshalb wir das RockFels vorverlegt haben", so der Veranstalter. "Wir möchten allen Besuchern eine möglichst umleitungsfreie Abreise garantieren können".
Am Booking für das Festival wird derzeit mit Hochdruck gearbeitet – in Kürze werden erste Bands bekanntgegeben.
Kaum eine andere Festival-Region Deutschlands hat so vieles ergänzend zur eigentlichen Veranstaltung zu bieten wie die malerische Gegend um Deutschlands berühmtesten Felsen, auf dem sich alles abspielen wird. Traumhafte Landschaften, Schifffahrten auf dem Rhein, Weinproben oder Burgbesichtigungen – die Gegend spiegelt das wieder, was das Festival in seiner Konzeptionierung bereits vorgibt: anstatt unwegsamen, matschigen Arealen mit viel Kälte, Schlamm und Lärm bietet das RockFels eine gediegene Atmosphäre, gute Infrastruktur und einen vom Areal selbst etwas abseits gelegenen gemütlichen Biergarten mit warmer Küche fernab des Festival-Stand-Essens und spektakulärem Blick auf den Rhein.
Hier vereinen sich Open Air-Feeling, Sommer-Biergarten-Flair und eindrucksvolle Kulisse zu einem Gesamtevent.
Malerischer lässt sich in Deutschland garantiert nicht rocken. Den Besuchern ist das auch nicht verborgen geblieben: Der Veranstalter zählt bereits jetzt so viele
Ticketvorbestellungen wie nie zuvor!