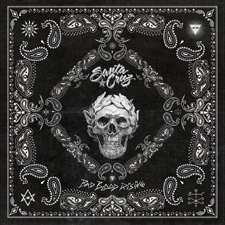 Vom britischen Rolling Stone Magazin als eine der "Top 10 Bands, die man kennen sollte" gepriesen für ihr "ausschweifendes, auffälliges Flair", sind SANTA CRUZ eine moderne finnische Hard Rock Band, gegründet mit dem gemeinsamen Bestreben, sich den Allerwertesten abzuspielen und den Leuten in den selbigen zu treten. Inspiriert von Mötley Crüe und Guns N' Roses, entwickelte diese junge Gruppe, mit zwei Alben bei Spinefarm Records im Rücken, ihre energiegeladene Liveshow als Mixtur aus modernem Rock, Punk und Metal, angereichert mit ihrer eigenen Prise an rebellischer Attitüde.
M-Theory Audio ist deshalb besonders erfreut, diese vielversprechende Band unter Vertrag genommen und zu ihrem Roster an talentierten, frischen Bands aus jeder Nische der Metal/Hard Rock Welt hinzugefügt zu haben.
Nach der bereits Anfang des Sommers veröffentlichten ersten mitreißenden Single "River Phoenix" vom kommenden Album, folgt am 15. September bereits mit "Young Blood Rising" die nächste digitale Single, zu der es in den kommenden Wochen ebenfalls ein Video geben wird. Beide Tracks bieten einen Ausblick auf das am 10. November folgende Album, welches als CD, limitiertes farbiges Vinyl und als Digital-Release erscheinen wird und hier direkt bei M-Theory Audio vorbestellt werden kann. Zeitgleich wird die Band auch von November bis Dezember auf Europa-Tour gehen.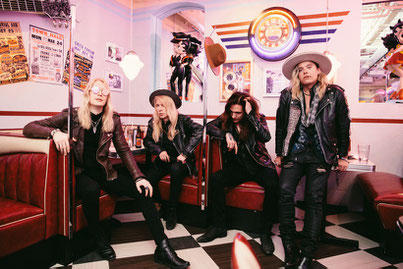 "Dieses Album hat wahrscheinlich beides, die härtesten und die weichesten Santa Cruz Momente überhaupt. Wir wollten nicht mit etwas komplett anderem als zuvor kommen, aber ich denke, einige der neuen Einflüsse, die wir in der letzten Zeit aufgenommen haben, kann man in diesen Songs hören", merkt Gitarrist Johnny an. "Am Ende des Tages fällt der Apfel nicht weit vom Stamm. Leute können immer noch den Santa Cruz Sound erwarten - die schnellen Gitarren und harten Drums sind immer noch da, nur mit einer anderen Note gewürzt. Alles in allem sehen wir Bad Blood Rising als ein 'Comeback Album'. Als Start einer neuen Ära. Es ist wie Archie in River Phoenix singt – 'We're going down like River Phoenix, to rise up from the ashes once again'."
Nach einer Aufmerksamkeit erregenden EP vor fünf Jahren, unterschrieben SANTA CRUZ bei Spinefarm Records und veröffentlichten 2013 ihr Debüt-Album "Screaming For Adrenaline", welches mit einem Sound von explodierendem puren Adrenalin ein überaus positives Medienecho erzeugte und die finnischen Top 40 erklomm. Neben Touren in Finnland und Britannien, folgten auch auch die ersten Abstecher nach Deutschland und Belgien als Support für ihre Helden Skid Row.
Zwischen den Tourneen fanden Santa Cruz trotzdem noch Zeit, ihr zweites selbstbetiteltes Album aufzunehmen, welches im Erscheinungsjahr 2015 sofort auf Platz 3 in die finnischen Charts einstieg und "We Are The Ones To Fall" als Single enthielt – ein Song, der zum meistgespielten Hit im finnischen Radio Rock wurde. Auch führte es die Band in einen Mercedes-Benz Werbeclip. Nach extensivem Touring um die Welt (inkl. drei Abstechern nach Amerika, wo sie zusammen mit Amaranthe, I Prevail und Sebastian Bach auftraten), kehrt die Band nun mit ihrem dritten Album "Bad Blood Rising" zurück.