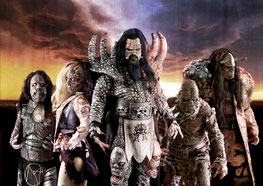 Geiselwind – Das Indoor-Festival F.E.K.9 feiert zehnjähriges Bestehen und ruft dabei, dem Prädikat "Monster Festival" alle Ehre machend, ein monströses Line-Up der Extraklasse auf. Exklusive Hardtickets für das am 06. Und 07. Oktober 2017 steigende Festival sind bereits erhältlich.
Als Headliner spielen die monströs-legendären LORDI auf, die als Gewinner des Eurovision Song Contest Heavy-Metal-Geschichte geschrieben haben. Für Party-Stimmung sorgen KÄRBHOLZ, die fränkischen Traditions-Deutschrocker HÄMATOM und UNANTASTBAR, die waschechten Punkrock aus Südtirol importieren. Außerdem mit dabei sind 9MM, GORMATHON, ROTZ & WASSER, ROCKWASSER, BAD JOKERS, DIE KNAPPEN, THE O'REILLYS & THE PADDYHATS, EXISTENT, ONKEL TOM, NEUROTOX, BÖHSE BENGELZ und die AGF GEWINNERBAND.
Alles in allem zwei prall gefüllte Tage mit spektakulärem Programm: handgemachte Rockmusik erfüllt das Eventzentrum Geiselwind, während ein Highlight das nächste jagt. Hier führen die Veranstalter passend zum zehnjährigen Jubiläum das F.E.K. 9 Monster Festival zu einem absoluten Höhepunkt, der seinem Namen mehr als gerecht wird.
Auch für das leibliche Wohl ist gesorgt: Restaurants, Casino und Übernachtungsmöglichkeiten sind vorhanden, um den günstig gelegenen Autohof Strohofer in ein Paradies der Rockmusik zu verwandeln.
Das Billing in der Übersicht
• LORDI
• KÄRBHOLZ
• HÄMATOM
• UNANTASTBAR
• 9MM
• GORMATHON
• ROTZ & WASSER
• ROCKWASSER
• BAD JOKERS
• DIE KNAPPEN
• THE O'REALLYS & THE PADDYHATS
• EXISTENT
• ONKEL TOM
• NEUROTOX
• BÖHSE BENGELZ
• AGF GEWINNERBAND
Die exklusiven Hardtickets gibt es nur im hauseigenen Shop für 42,90€ unter https://shop.eventzentrum-geiselwind.de/f-e-k-9-monsterfestival/
Alle weiteren Infos auf www.FEK9-Monsterfestival.de